Building on Hope reveals its latest success story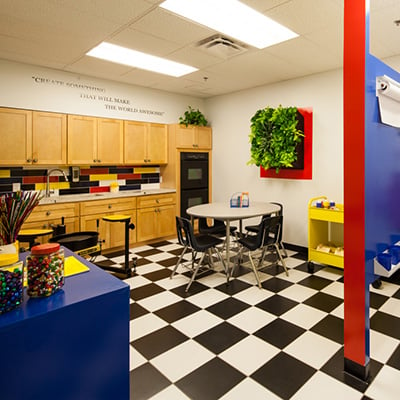 After more than 10 days of round-the-clock work by volunteers, the newly renovated, significantly improved and updated Opportunity Networks facility was reopened in Amherst.
The $300,000 renovation of the facility was made possible by the organization Building on Hope, a New Hampshire-based volunteer organization that collaborates with builders, architects, designers and suppliers to provide physical improvements to nonprofit facilities.
The Opportunity Networks renovation involved nearly 200 volunteers and dozens of companies that collaborated in the effort to transform the Amherst facility, which serves young adults and adults who live with acquired and developmental disabilities.
The transformation was the third project undertaken by Building on Hope in the past five years. (It previously completed $500,000 in renovations for Easter Seals NH and Girls Inc.)
"Building on Hope's mantra 'Many Hands Make Light Work' was on full display throughout the past week of work and over the many months of planning to make this day become a reality," said Jonathan Halle, co-chair of Building on Hope. "For an all-volunteer group with no funding, Building on Hope relied solely on the goodwill and generosity of Granite State businesses. The outpouring of support is indicative of the spirit of the people of New Hampshire and reminds us how good people truly are."
With little more than basic updating and maintenance in the past 30 years, the 6,000-square-foot location in Amherst was in desperate need of repair. Over the months, Building on Hope organized volunteers and solicited donations from dozens of businesses to help with the Extreme Makeover-type renovation, which was revealed on May 18.
A total of 12 rooms were renovated. Rooms vary by purpose, from promoting healthy and independent living skills, employment and learning, to pursuit of interests, and general needs. Volunteers aided in the creation of a movement room, a tech theater, creative center, administrative offices, function and conference rooms, kitchen and cafeteria.
To learn more about Building on Hope, visit www.buildingonhope.org.