Building on Hope gives Manchester PAL building a new life
$1.8 million volunteer project gives center an 'extreme makeover'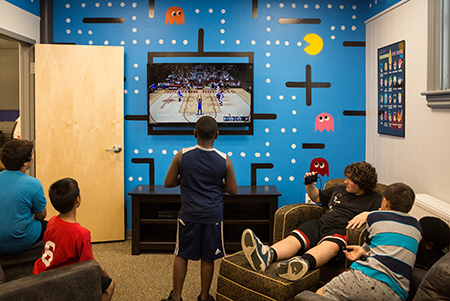 Building on Hope, an organization of volunteer designers, architects, builders and others who provide renovations to nonprofit group facilities, has completed the $1.8 million community-funded "extreme makeover" of the Manchester Police Athletic League Michael Briggs Community Center in Manchester.
Nearly 400 volunteers and dozens of companies collaborated in the effort to transform the building that provides an alternative to harmful behavior for Manchester's inner-city youth and encourages positive relationships between law enforcement and young people. The transformation of the Michael Briggs Community Center was the fourth and largest project undertaken by the all-volunteer group in the past seven years.
"Building on Hope is not a nonprofit, we have no budget or board of directors, we're simply a group of people who are your neighbors and we show up every two years to do an extreme makeover for a deserving nonprofit," said Jonathan Halle, co-chair of Building on Hope. "MPAL has wonderful programs but was limited by a substandard facility, and the transformation that happened over the past few months is nothing short of a miracle. We're so proud and honored to hand the keys back over to MPAL and see all the successes to come in their future and the future of these kids."
The new center was unveiled on Sunday, with more than 250 volunteers, police officers, community members and MPAL participants in attendance. Among them was Manchester Mayor Ted Gatsas, U.S. Sen. Kelly Ayotte, Gov. Maggie Hassan, Michael Briggs' family and Ryan Hardy, a Manchester officer who was shot in the line of duty a week earlier.
A total of 17 rooms were renovated in the 16,000 square-foot, 105 year old facility. Rooms vary by purpose, from a state-of-the-art kitchen, to a homework room with laptops and internet access, to a game room with a TV and gaming system, to offices and storage rooms.
"I have no words. It's breathtaking and I'm still trying to take it all in, I still think this is all a dream," said Gibran Ortiz Perez, a boxing coach at the Michael Briggs Community Center and former MPAL student. "The thought of graduating high school let alone college never even crossed my mind before this place. Now 11 years later, I get to teach these kids the same values I was taught when I joined."