Building fire closes Brookline business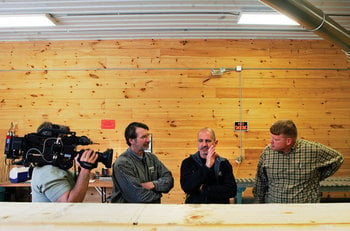 BROOKLINE – A Brookline business featured recently on "This Old House" caught fire the day before Christmas.
Firefighters from three towns took an hour to control a blaze within the walls of Bingham Lumber's showroom around 5:30 a.m. Wednesday, according to Brookline Fire Chief Charles Corey Sr.
The "This Old House" film crew taped a segment at the Route 13 business in May for an episode on a prefabricated home in Weston, Mass. The episode aired Saturday, Dec. 20.
The showroom was set to open when an employee spotted smoke, Corey said, and called the fire department.
"It's a good thing he came in early," he said.
Crews from Brookline, Hollis and Milford responded and had to tear into the showroom walls to extinguish the flames, which also spread into the attic, he said.
Bingham specializes in reclaimed wood, salvaging wood from old barns and then kiln drying, recutting and using it in flooring, wainscoting and molding in homes.
Bingham Lumber owner Tom Bingham, of Mason, wasn't available for comment as of Sunday night.
His father and former owner, Dave Bingham, said the company started as a sawmill in the 1940s, eventually moving into finished products as sawing became more specialized. Now, he said, the company reclaims wood from all over to use in its finished products.
The fire isn't suspicious and Bingham Lumber's insurance agency is scheduled to investigate the cause this week, Corey said.
No one was injured, he said.