Bruss Construction goes above and beyond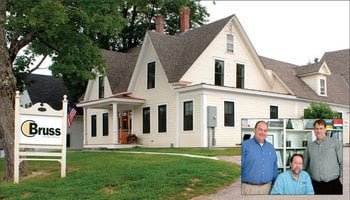 When the Society for the Protection of New Hampshire Forests needed a new office building several years ago, it turned to Bruss Construction in Bradford, for what became the LEED project certified by the U.S. Green Building Council.
Founded in 1983, Bruss Construction has been leading the way in environmentally friendly residential and commercial construction for nearly a quarter of a century.
"The company started early on doing high-efficiency envelope houses, super-insulated with super-tight shells," says CEO Jim Bruss, who runs the family business with brothers Michael and John. "We've advanced with advent of new technologies and we see ourselves as the leader in New Hampshire."
The Proctor Academy Eco Dorm in Andover, the Harris Center for Conservation Education in Hancock and the White Mountain Science Center in Bethlehem are among the many environmentally sound projects built by Bruss Construction.
The company's "green" buildings feature high-efficiency boilers or furnaces and low-impact plumbing, along with doors, walls, roofs, windows and foundations designed to minimize heat loss. "Smart" controls and sensitive lighting systems are part of the energy-efficient design. Interiors feature floors and woodwork made of lumber that is locally grown or harvested on site where possible. Sheetrock, ceramic tile and carpeting made of recycled materials help create an environment that is both user and eco-friendly.
Restoration of historic buildings is another Bruss specialty. Colony Hall at the MacDowell Colony in Peterborough and the Visitor/Education Center at Canterbury Shaker Village are among the many Bruss restoration projects, which also include numerous church buildings, civic and cultural institutions on the National Register of Historic Sites.
The company also has built schools, banks and a number of projects for non-profit organizations, including two clinics for Concord Hospital. All the while, Bruss Construction has been building its reputation with satisfied clients throughout New Hampshire and parts of Vermont.
"About 99 percent of what we do is repeat business and referral business," says Bruss. "We do very little bid work." The company utilizes an approach called "integrated design" to coordinate the efforts of all parties involved in construction.
"We bring architects, engineers and the project owners together to discuss all the parameters of the project and identify all the elements that are key to its success," says Bruss. "That information helps us coordinate all the various activities that go into the construction or restoration of a building."
With the integrated design approach, ideas are generated and decisions made cooperatively. The owner remains aware of costs of the project throughout the design process. Savings are achieved and quality improved by better planning and execution of the project plan by all parties working as a team.
The Bruss brothers and their nearly 60 employees continue to build on the company's success and attention to details, written and otherwise.
"We work hard to build relationships with the project owners to meet their goals and needs," says Bruss. "We go beyond what it says in the plans and specifications."
The NHBR Business Profiles section contains content provided by New Hampshire Business Review advertisers.