Brookline tobacco shop told to cease use of roll-your-own machines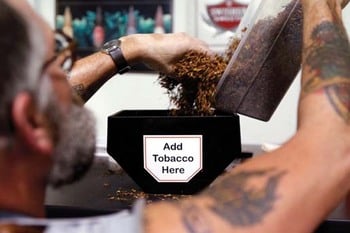 A small tobacco shop in Brookline has generated a make-your-own-cigarette operation that has throngs of smokers, plus the acting state attorney general, knocking at its door.
Tobacco Haven, near the Massachusetts state line on Route 13, has installed two commercial cigarette-making machines. People buy loose tobacco, rolling papers and filters, then use the machine to create their own cigarettes at about half the cost of a typical pack of Marlboros.
Assistant Attorney General David Rienzo thinks this might violate state laws about commercial cigarette making, and in the process, endangers tens of millions of dollars of tobacco settlement money for New Hampshire.
Acting Attorney General Orville "Bud" Fitch has filed suit against Tobacco Haven owner Joseph Correia Jr., telling him to halt cigarette production.
"This is the first action of this type in the state, and it type in the country," Rienzo said. "New Hampshire is the only one I know that's doing it."
Correia was not available for comment Monday. His brother, Jason Correia, deferred comment to him.
Tobacco Haven's new business takes advantage of the rapidly growing "roll your own" sector of the cigarette industry, in which people buy small machines to create their own cigarettes at home.
"Roll-your-own cigarettes has gone through the roof," said Keith Spano, manager at Castro's Backroom in Nashua. "It's an extremely cheap way to do it. I heard there's a line out the door at (Tobacco Haven) with people that just wait from Massachusetts, New Hampshire, everywhere."
Tobacco Haven's big draw appears to be the price. A carton-worth, or 200 machine-rolled cigarettes cost $25.99. Cartons of many name-brand cigarettes cost more than $40.
Peter Labrecque drove from Nashua for exactly that reason. He said a carton of his old brand of cigarettes cost about $42.
"It's more a matter of what I can afford right now," he said. He said there's not much of a difference between the store's machines and rolling his own cigarettes at home, except convenience.
"Would it be different if I rolled them in my own home? Why would that be any different?" he said.
Mary Kavanaugh drove about 20 minutes from Lunenburg, Mass., because her old brand of cigarettes cost more than $60 per carton.
"I think it's a great thing to help out the people. We just can't afford all these new taxes on everything," she said.
Tobacco Haven has two 4-foot-tall roll-your-own machines in the back of the store. The machines cost about $30,000 each, store manger Jason Correia said.
Users fill a small plastic bucket with one of three varieties of tobacco and dump it into a hopper on top of the machine. A few presses on the screen start the machine and the cigarettes are spit out a small hole in the bottom.
An employee is on hand to help first-timers and fix the machines if they malfunction.
The machines at Tobacco Haven are a far cry from the manual ones that people typically buy for home use.
At Smokin' Deals in Nashua, customers have a choice among five different tabletop models of take-home cigarette machines and eight handheld versions ranging from $25 to $63, according to manager Cindy Demanche.
"We're overselling machines, tobacco, tubes and rolling papers," Demanche said. "Every time the taxes go up, more and more people are looking for them. They're fed up with all these tax increases."
Depending on the model, it can take five to 15 minutes to roll out a pack of 20 cigarettes at home, she said.
"I've heard about (Tobacco Haven) from some of my customers, Demanche said. "They think it's the coolest thing ever that they can do it in a store and not take it home."
Acting Attorney General Fitch doesn't seem to think so.
The state of New Hampshire filed action Tuesday at Merrimack County Superior Court, saying Tobacco Haven should be subject to New Hampshire's Non-Participating Manufacturers Act, RSA 541-C, and the Directory Act, RSA 541-D, as part of the tobacco Master Settlement Agreement (MSA) of 1998.
The MSA holds tobacco manufacturers accountable for state's accumulated Medicaid expenses treating patients who suffer from tobacco-related illnesses.
All tobacco product manufacturers that distribute products to MSA states make required payments costing the company about 42 cents per pack. Each year the manufacturers generate a total MSA pot around $7 billion each year.
New Hampshire gets about six-tenths of one percent of that pot – about $50 million a year – to put toward Medicaid reimbursement and other state expenses.
Even smaller tobacco manufacturers who were not part of the settlement have to pay two cents per cigarette – a comparable 40 cents per pack – into an individual escrow account.
"The MSA has teeth to it, as far as the state's obligation to make companies pay to their escrow account," Rienzo said. "If it's determined that any state is not diligently enforcing the escrow statute, then it can be sued by manufactures saying we're not doing our job, and that the little companies are starting to eat their lunch."
That's why the attorney general is concerned about Tobacco Haven's long lines and cartons of rolled smokes flooding out the doors.
"If the state loses its diligent enforcement obligation, it can lose up to an entire MSA payment for that year – that could be a $50 million hit to the state of New Hampshire," Rienzo said. "Every state is on this like a hawk."
The question is: Does Tobacco Haven's operation, in which customers themselves operate the commercial cigarette-making machines – which can cost tens of thousands of dollars – mean they are a manufacturer?
"You go in and say you want cheap cigarettes. Then there's the tobacco, you pick out what you want, and they tell you how to go to the machine and load it," Assistant Attorney General Rienzo said.
"Our understanding is that they are very careful not to touch the machine while the customer is doing this, so they can argue that they're not making the cigarettes – the customer is making the cigarettes," Rienzo said.
Right now, the commercial machines dish up about 200 cigarettes in 10 minutes, Rienzo said.
The state wants Correia to halt his make-your-own cigarettes procedure until the matter is cleared up.
The watchful nature behind New Hampshire's action is nothing new. Rienzo said 46 states across the country meticulously monitor large and small tobacco product manufacturers in order to participate in the MSA.
"We're telling the court our position is that it doesn't matter who pushes the on switch," Rienzo said. "If you have these commercial cigarette-making machines, you sell the components, you sell the tobacco, you plug them in, pay the electricity, maintain the machines and instruct people how to use them. It's a tobacco manufacturing business, and you're in the business of making cigarettes."
Should the court determine that Tobacco Haven's make-your-own cigarettes operation is in fact a manufacturer by MSA's terms, the shop will be forced to join the MSA or start an escrow account.
If the court finds Tobacco Haven is not a manufacturer, that's fine too, Rienzo said.
"We will have done our part, at least, at getting this question answered," he said. "We don't want to impair his business, we just want him to be in compliance with equitable laws."