Bringing artisans to 'the next level'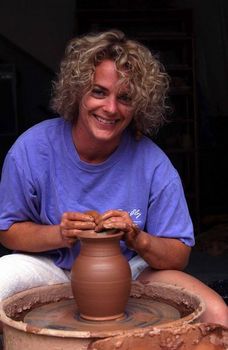 Wendy Walter sold her wedding ring to start her pottery business. L.P. Runyon found there was nothing that fulfilled him as much as creating his furniture. Jane Ehrlich, a graphic artist, tired of searching for her luggage at the airport, created a line of unique ID tags.
Walter, Runyon and Ehrlich are three of the five artisans chosen to receive support from HGM Development in building and growing their business, made possible through a $57,000 grant from the U.S. Department of Agriculture.
HGM the non-profit umbrella organization that owns Hannah Grimes Marketplace Inc., a store in downtown Keene that sells the products of HGM members, all of whom are small producers of arts and crafts, clothing, specialty food, household items and other goods. HGM's goal is to help its members establish sustainable businesses.
Through the grant, HGM will provide free technical assistance as well as shelf space at the Hannah Grimes Marketplace store.
"After seven years of doing this, some of our businesses are ready to go to the next level," said Mary Ann Kristiansen, founder and executive director of Hannah Grimes and HGM. "We wanted to develop a curriculum to help our members make that move."
So last fall HGM applied for a USDA Rural Business Enterprise Grant and asked interested marketplace members to write a letter stating their company's vision, why they were ready to take their business to the next step, and what consultation and specific tools they felt they needed to get there.
"We were looking for a diverse group to support with a broad array of issues," said Kristiansen.
With the help of consultants, five of HGM's most promising members were chosen. As sort of a pilot training program, Kristiansen said, "We are looking to develop a curriculum around the common themes these five encounter and eventually use it as a tool to guide the other members."
The selected businesses will meet one-on-one with consultants to address their issues as well as receive $1,000 toward the development of a specific project, such as for marketing.
Budding entrepreneurs
For Walter, owner of Voice of Clay, the money will be used for is a more effective point-of-sale display for her pottery.
She said she hopes to ultimately expand production beyond just herself. "I'd like to have three or five other employees," she said.
Walter said she is excited about the grant. "I hope it has an impact on other entrepreneurs who are wondering how to grow their businesses."
L.P. and Jennifer Runyon, owners of Runyon Company, had written HGM saying that, although they were still new, they were willing to put everything into their business to make it successful.
While L.P. is the artist — crafting tables, chairs and other pieces from powder-coated steel, glass and stone — Jennifer, a former magazine editor, knew how important publicity was to their fledgling business.
"I edited an engineering magazine and saw first-hand how small start-ups began and grew, so I was able to apply some of that to our business," she said.
Early success came at the 2002 Boston Gift Show, where Runyon Company furniture was a big seller.
The Runyons said being selected as one of the five members for the pilot will help them manage their growing company. She said they haven't decided just yet where they'd like to spend their $1,000 on, but they are working on streamlining their ordering process.
Their goal at this point, however, is to remain small. "We always want to be hand-made and hands-on," said Runyon.
Jane Ehrlich, a longtime freelance graphic designer, found her entrepreneurial spirit at the airport baggage claim. "I was traveling a lot and had a hard time finding my luggage. Then it came to me: graphical luggage tags."
She did her homework and the few items that were out there were small and not very impressive. "Nobody else was doing this," she remarked. Soon, Lugtagz was born.
While Ehrlich's large, colorful ID tags have been distributed from New England to the Midwest in small stores and gift shops, she'd like to find a national distributor. She has also entered the corporate gift market with some promising results.
"Hannah Grimes is so wonderful with all the services they offer," said Ehrlich. "They give me feedback and advice on my product and how it is selling."
Bob's Bread is not made by a "Bob," but by one James Callaway. He worked for a number of years in the food service industry in Salt Lake City, Utah, where there were several bakeries, many having French names or a Parisian flare.
"I began to think, 'We need an American bakery,'" said Callaway. "I am a big Bob Dylan fan, so I thought of Bob's Bread. People told me it was a horrible name, but what sounds more American than 'Bob's Bread'?"
Some classic Dylan lyrics — "People never do what they believe in and then they repent" — helped Callaway stick with his simple, catchy name and inspire a business.
Working Wednesdays and Saturdays out of the commercial kitchens of his employer, Callaway bakes five different kinds of bread, including sharp cheddar and onion and fresh thyme and olive breads.
While Callaway has been successfully selling artisanal bread for five years through Hannah Grimes and several other local retailers, his dream is to own his own bakery. He said he wants custom display shelves that will not only beautifully present his products, but will help maintain the freshness and the crusty exterior his loaves are known for.
"I have experience cooking commercially, and I have decent financial backing, but I've never done my own business with a business plan and everything," he said. "I have a lot of assumptions, but I don't know if they're accurate. I'm looking forward to Hannah Grimes helping me with that. They are a wonderful resource."
The fifth business, That Soap Guy, is actually owed by a soap gal.
Nancy Whibben makes all-natural soaps and body products. The name came as a result of her husband bringing her soaps to her local farmer's market. Patrons started looking out for "that soap guy" in their eagerness to buy her products.
Whibben was en route to the Eastern States Exposition, aka the Big E, in Springfield, Mass., when she was contacted by the Business Review. She said she was focusing her efforts there for the moment, but she did have time to say she was thrilled to be a part of the Hannah Grimes program.