Brandeis professor, Cleanfield Capital co-founder to speak at UNH
Dr. Debarshi Nandy will discuss how his company seeks to restore neglected areas and repurpose brownfields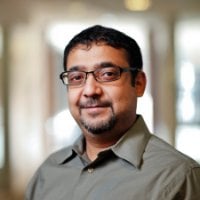 Dr. Debarshi Nandy, associate professor of finance at Brandeis University and co-founder of Cleanfield Capital, will speak Thursday, Feb. 22 as part of the Wildcatalyst Seminar Series held by UNHInnovation.
Dr. Nandy's research interests include everything from entrepreneurial finance and financing of innovation to hedge funds and corporate restructuring.
His start-up, Cleanfield Capital, founded in 2016, uses a proprietary, innovative financial model to optimize the environmental benefits and commercial value of redeveloping abandoned and potentially contaminated land known as "brownfields." The company seeks to restore neglected areas and repurpose brownfields into sustainable and productive residential and commercial real estate developments using renewable energy sources.
Dr. Nandy has significant experience with mentoring and advising entrepreneurial firms, and both an academic and practical perspective of entrepreneurship and corporate finance.
The talk will take place from 4:30 – 5:30 p.m. at the UNHI Co-Working Space at 21 Madbury Road in Durham, with networking and free refreshments from 5:30 p.m. – 6:30 p.m. Click here to register.