Board picks Conrad for superintendent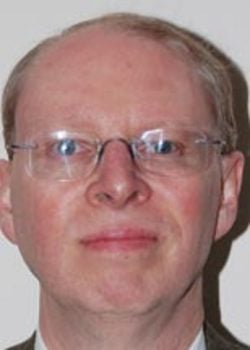 NASHUA – Integrity, dedication to children and local ties were among the reasons cited by members of the Board of Education who voted in favor of making Mark Conrad the city's next superintendent.
The board voted 7-2 Monday to offer the superintendent position to Conrad, who worked for 10 years in Nashua as the school district's business administrator.
Conrad left Nashua in 2006 to work as chief financial officer for Bedford schools.
"He has a strong knowledge of the district," board President Tom Vaughan said after the vote Monday. "He has a strong set of skills and a sense of community."
Reached at his Nashua home, Conrad said he was pleased and honored the board pleased and honored the board selected him and that he accepted the position contingent upon a contract agreement. Conrad said he had every expectation of being able to reach an agreement.
"I think the opportunities in Nashua are unlimited," Conrad said. "I always wanted to come back because I'm part of the community. I think there is a spirit of innovation in the district. I think the diversity is its strength."
During the interview process, the 50-year-old Conrad said he planned on devoting the next 15 years of his career to the Nashua superintendent position, if offered the position.
Conrad reiterated his desire to stay in Nashua for the long term. He would be content to retire from the position, he said.
"I think I'll be very happy in the district and productive," he said. "To make real gains in education takes time."
The board has established a salary range of $135,000 to $150,000 for the position. Conrad is earning $99,865 in Bedford this year, according to the state Department of Education.
Board member Sandra Ziehm and Dennis Hogan voted against Conrad. Prior to the vote, Ziehm said she couldn't vote for Conrad because he had never been a superintendent. "He's never been the boss before," she said. "It's very different to be the boss."
After the meeting, Ziehm and Hogan said they were in favor of Robert Reidy, superintendent of the Mahopac (N.Y.) Central School District.
Reidy, 63, has 31 years of experience as a superintendent, including eight years in Peterborough. He is retiring from his position in New York this year and had said he planned on working in Nashua five to seven years.
Superintendent Christopher Hottel informed the board in January that he would leave at the end of June to take the same position in North Andover, Mass.
The board decided to conduct its search without the assistance of a professional search firm. There were 16 applications submitted and a panel of community members and district staff narrowed those down to four finalists.
The other two finalists were Kathleen Murphy, director of the division of instruction for the state Department of Education, and Brian Cochrane, director of accountability and assessment for Nashua.
Board member William Mosher said he liked Conrad's ties to the community.
"He is a local. He's spent a lot of time in this district," Mosher said. "He lives here, which makes quite a bit of difference."
Conrad has two sons, one of whom graduated from Nashua North last year and another who will graduate from North later this month.
Richard Dowd, the longest-tenured member of the board, said he was impressed with Conrad when he first worked for the school district.
"He has knowledge and integrity. His work ethic is second to none," he said, adding that among the finalists, most people he spoke to in the district supported Conrad.
Board member Jack Kelley pointed to Conrad's experience managing the $143 million high school renovation and construction project as one of the ways he showed leadership during his time in the district.
Conrad was the only finalist without experience as a classroom teacher.
Prior to starting his career as a business administrator in 1989, Conrad spent four years as the director of child development for the People's Regional Opportunity Program in Portland, Maine.
In that position, Conrad managed the countywide Head Start program.
Hogan hesitated before casting his "no" vote. Afterward, he said he questioned whether to support the person he knew was going to win or vote the way he felt. He chose the latter.
"I think Mark would do a good job, but I was hopeful that Reidy would do a great job," Hogan said.
During the interview process, Ziehm asked Conrad directly about his time working under former superintendent Julia Earl. In June 2006, the board placed Earl on paid administrative leave as it conducted an investigation into her use of public funds for personal travel. The board eventually reached a $250,000 settlement with Earl.
Conrad left for the Bedford position that same month but said he was looking for a new job several months before questions began to arise about Earl's spending.
"I asked about that because I wanted to see what kind of leadership did he take during that time," Ziehm said.
In response to Ziehm's question during his interview last month, Conrad said he had brought his concerns about how money was being spent to Earl and said if he had seen anything illegal, he would have gone beyond her.
"I didn't see that," Conrad said during his interview. "There was a disagreement in judgment perhaps."
Vaughan said he wasn't concerned about not being able to reach consensus on the position. He said discussion during the closed-door deliberations were cordial but opinionated.
"I think everyone is going to support Mark," she said.
Conrad said he wasn't yet sure when he'd be able to make the switch to Nashua. Conrad said contracts typically call for 60 days notice.
"I have obligations to my current employer," he said. "If I can find some time to work with Chris before he leaves, that is something I'd like to do."
Conrad said one of the most important tasks would be to fill the vacant chief financial officer position. Jim Mealey, the current CFO, is leaving for North Andover to work under Hottel. "It's a critical position at a critical time," he said.
Conrad has nearly completed his Certificate of Advanced Graduate Study in educational administration and supervision at the University of New Hampshire, which will earn him his superintendent certification.
Conrad said his courses are complete, which means he would be eligible to be a superintendent in July. He will earn his degree in December.