Blake's president wins N.H. SBA honor
A 'New Hampshire small business success story'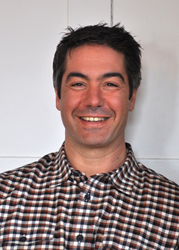 Chris Licata, president of Blake's All Natural Foods in Concord, has been selected as 2014 Small Business Person of the Year by the U.S. Small Business Administration.
Licata, who will compete with the nation's top small businesses for the honor of National Small Business Person of the Year during the SBA's National Small Business Week celebration, May 12-16, joined his wife's family's 85-year-old business, Blake's Turkey Farm, in Concord in 2006. The firm is best known for its natural and organic comfort food. Blake's meals can be found in nearly 6,000 stores nationwide and in more than 40 states.
"Mr. Licata has helped create a New Hampshire small business success story," said Greta Johannson, SBA's New Hampshire district director. "During a challenging economic time, he continued on a path of growth and expansion for this fourth generation family-owned business. We at the SBA are honored to be able to recognize Mr. Licata and other extraordinary entrepreneurs each year."
Licata will be recognized locally at the annual NH SBA Small Business Awards event on May 28 at Southern New Hampshire University in Manchester.
Other 2014 SBA award winners to be recognized include:
• Exporter of the Year (New Hampshire and New England winner): W.S. Badger of Gilsum
• Woman-Owned Business (New Hampshire and New England winner): K9Kaos of Dover
• Jeffrey Butland Family-Owned Business: Studley Flower Gardens of Rochester
• Veteran-Owned Business: Manchester Music Mill of Manchester
• Young Entrepreneurs of the Year: Sap House Meadery of Center Ossipee
• Financial Champion: Jonathan Shapleigh, Bank of New Hampshire
• Small Business Champion: Mark Scarano, Grafton County Economic Development, Plymouth
For more information on the May 28th annual awards event, call 603-225-1400.