BLACK DAWG SEALCOAT® "Your Driveway and Parking Lot's Best Friend!"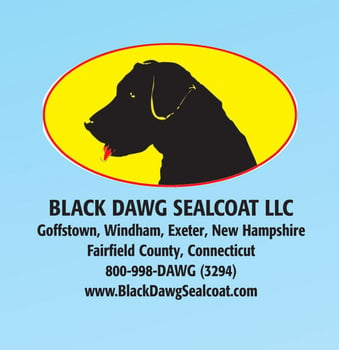 BLACK DAWG SEALCOAT® is rapidly adding to its fleet and expanding services. Jack Child, Founder of BLACK DAWG FRANCHISE GROUP, the parent company of BLACK DAWG SEALCOAT®, offered this assessment, "Asphalt maintenance, whether for homeowners or commercial property owners, is a basic necessity. A properly maintained driveway or parking lot will save the owners thousands, even tens of thousands of dollars, in replacement costs. Demand is up because smart property owners are looking to protect their investments." With the addition of new vehicles, trucks and equipment, the BLACK DAWG SEALCOAT® Franchise System continues to sustain its growth for servicing both residential and commercial customers in need of Driveway and Parking Lot Maintenance.
Besides new service trucks coming online, BLACK DAWG has added a new smart car to its fleet in order to reduce fuel consumption and increase brand awareness. "The smart car has been great at cutting costs, lowering overall emissions and helping us expand our brand. Everyone loves the car. It tends to be a conversation starter and often we'll learn a great deal more about our customers and their needs just because of the car. What started as a way to get noticed has turned into one of our most effective customer service tools. In case any one is wondering what it runs on, my standard response is 'air' (pause) and gas," jokes Child.
Pete Christman, franchise owner of BLACK DAWG SEALCOAT of Merrimack Valley, says "We're seeing strong demand for our services as homeowners and property managers are becoming wise to the notion of maintenance over replacement. Routine maintenance can more than double the life of asphalt. In times like these, no one wants to be on the hook for total replacement. This is an investment that doesn't need a bail-out. You can see its value everyday."
One area of concern in this economy, says Child, is the bunker mentality some have taken. "Recently, I've encountered a few potential customers whose parking lots or driveways are rapidly approaching the point of no return, with respect to maintaining them before the damage becomes too severe. Particularly with parking lots, the cost of crack filling and sealcoating is dwarfed by the cost of replacement. I proposed about $5,000 worth of repairs for one lot, but the owner decided to freeze spending. That's well and good for some maintenance items, but cracks never stop forming and they always multiply exponentially. By saving $5,000 this year, the property owner will be forced to replace the lot and face a $60,000 to $80,000 expense in just a few short years. Will spending $60,000 in a better economy be easier than spending $5,000 now?" asks Child. "It's a tough call for some people but, when you step back, the question answers itself."
No one wants to overspend in this economy, or any other, but the push for the absolute lowest price has created a dangerous gap in the price to quality ratio. "Shopping for a contractor with price as the sole determining factor is almost always a formula for disaster," warns Child. "I'm aware of below-cost bids that have been recently awarded; bids so low they did not even cover the cost of materials required to perform the necessary work, let alone labor, insurance, fuel and other overhead expenses legitimate businesses incur. Yet, the customers were thrilled to find a 'bargain'. The truth is these operators are not going to lose money on the jobs they do. Corners will have to be cut, many of the cracks will not be sealed and the sealer itself will have to be diluted (a common practice in certain segments of the industry) to make the whole process appear to work in the short run," claims Child. "Long-term, these bargain-hunters will have to bear additional costs to undo the damage being done to their property."
Child likes to cite the Bernie Madoff scheme as a learning tool for consumers. "Bernie's customers felt they were special and they had stumbled upon an incredible deal; it is the same for those that think they can get first class service for bargain pricing. There is a difference between a great price and a great value. BLACK DAWG SEALCOAT is a great value for our customers." As a former military officer and airline pilot, Child is strict about business ethics. "Trust in our brand is the most important asset we possess and we work very hard to earn a solid reputation." To that end, Child insists all franchisees are accredited members of the Better Business Bureau and encourages volunteerism and charitable support within the communities BLACK DAWG serves.
To prove the truism that every dark cloud has a silver lining, if you have waited too long to maintain your driveway and it has gone the way of the Edsel, there is still time to enter BLACK DAWG SEALCOAT's "America's Ugliest Driveway" Contest. Just go to www.AmericasUgliestDriveway.com and e-mail a picture of your ugly and woe-begotten driveway and a brief story eulogizing its demise. One winner from each state will be awarded that state's Ugliest Driveway prize and receive a jug of New Hampshire Maple Syrup, courtesy of Parker's Maple Barn. One Grand Prize winner will be chosen as owner of America's Ugliest Driveway and receive $500 cash to ease the sting of replacement. Entries will be accepted April 15, 2009 through June 15, 2009.
For those needing professional asphalt maintenance services, backed by a Full Warranty, BLACK DAWG has three locations covering all of Southern New Hampshire and the Seacoast as well as Andover, North Andover, Lawrence and Methuen and a fourth location in Fairfield County, Connecticut. BLACK DAWG now has the capacity to service a much larger geographic area than most asphalt maintenance contractors.
They are also busy recruiting savvy businessmen and women to join their team and operate new franchises throughout New England and beyond. Their Franchise Fees start at just $4975, plus equipment. Additionally, BLACK DAWG has just launched a new affiliate, YELLOW DAWG STRIPING, to manage their Parking Lot Striping needs. This division will be run by Mark Murphy of Weare, New Hampshire.
Offering a full range of services including high volume crack sealing, sealcoating and line striping, BLACK DAWG SEALCOAT® is your Driveway and Parking Lot's Best Friend! Call 1-800-998-DAWG (3294) or visit www.BlackDawgSealcoat.com for more information and to see pictures of Olive, the "Boss".