Birch Hill Terrace to affiliate with RiverWoods
$6 million upgrade of Manchester retirement community to follow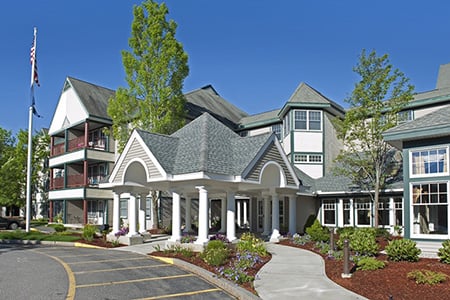 Pending regulatory approval, Birch Hill Terrace, a nonprofit continuing care retirement community in Manchester, will soon become affiliated with The RiverWoods Group, a parent company of the RiverWoods continuing care community in Exeter.
The affiliation agreement was reached on March 17, and will be reviewed by the NH Charitable Trust Unit as well the state Insurance Department.
"After much time and work together, we realized that Birch Hill and RiverWoods have very similar values and mission –our goal is to create community and peace of mind for seniors," said Justine Vogel, RiverWoods CEO. "As two charitable nonprofit CCRCs we can benefit from an affiliation, and collaborate to bring this way of life to more people."
With the affiliation will come a major capital investment in the Birch Hill Terrace campus, estimated by officials at nearly $6 million over the next 24 months. The money will be used to reimagine the common spaces and apartment design.
The architectural renderings are expected to be revealed by mid-May in a series of marketing events to be held locally.
"The time is right for this move," said Gary Zabierek, president of Birch Hill. "We are facing an unprecedented wave of boomers getting ready for retirement, bringing an increased demand for contemporary enhancements. This affiliation brings resources and fresh ideas that will help position us to serve both our current residents as well as the next generation."