Bill envisions Freedom's Way National Heritage Area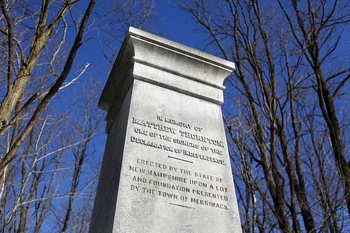 MERRIMACK – A pot of federal money for highlighting historic features in Greater Nashua may soon be up for grabs.
The U.S. Senate last month passed a bill that would make $10 million available for historic preservation and land conservation projects across the country – including in New Hampshire. The measure is still awaiting a vote in the U.S. House and would then need to be signed by President Barack Obama.
If it passes, the bill would simultaneously establish the Freedom's Way National Heritage Area, encompassing 1,000 square miles and 46 communities in Massachusetts and New Hampshire, including Amherst, Brookline, Greenville, Hollis, Mason, Merrimack, Milford, Nashua and New Ipswich.
Such a designation would allow a newly established heritage area commission to access technical assistance from the National Parks Service and a shot at some of the money.
The New Hampshire Freedom's Way Heritage Area Commission is working closely with its sister commission in Massachusetts to coordinate activities, according to a press statement.
One of the first would be to develop a survey of each community's historical and cultural resources. The survey would be used as a springboard for other projects, which could be educational seminars, restoration and conservation efforts, walking and biking tours and more.
For more information about New Hampshire's commission, contact William Ludt of Amherst at 673-1072 or wludt52@aol.com, or Robert Carr of Milford at 249-9364 or rwilcarr@comcast.net.