Big old tree to light up holidays downtown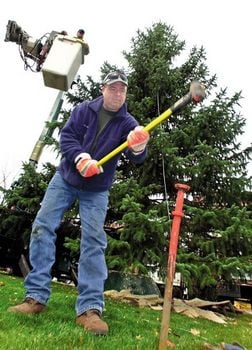 NASHUA – The spruce tree that 9-year-old Jimmy Gallagher has been circling with his bike for six years is gone. The Parks and Recreation Department came to his dad's house to chop it down and haul it away.
Jimmy didn't want it to be cut down, but Hailey, his 13-year-old sister, couldn't wait to tell her friends. The tree that used to be in her front yard is now featured in the center of downtown.
On Tuesday morning, a crew from Pioneer Tree Service and the parks department moved the Gallaghers' 50-foot tree from their home at 3 Berkshire Road to Railroad Square. Their spruce was chosen to be the city's Christmas tree for the 2004 holiday season.
The tree will be decorated this week. The public lighting ceremony will be held during the annual Downtown Nashua Winter Holiday Stroll on Nov. 27.
Hailey said she always goes to the stroll with her friend who lives near Main Street, but will enjoy it more this year than ever before.
"This year it will be fun because that is my tree," Hailey said, pointing at the spruce, which was suspended in the air by a crane in front of her house at 9 a.m.
The city has been relocating trees from Nashua homes to Railroad Square for the holiday season for about a decade, said parks department foreman Victor Delisle. Until the new Citizens Bank opened on Main Street, the city also used to move a tree to the open lot across from City Hall.
Nick Caggiano, superintendent of parks, said he had calls from at least six people this year who were willing to donate a tree from their yard.
"It was tough because the first four or five weren't that great," Caggiano said.
The department looks for a spruce that is full, has a straight trunk, and is even all the way around, said foreman Mark Faulkner, although it is sometimes difficult to find one that is just right.
Delisle, Caggiano and Faulkner all agreed the Gallaghers' spruce was at least one of the nicest, if not the nicest, trees donated over the years.
"It's one of the best trees we've had in the years I've been doing this," Faulkner said.
James Gallagher, who donated the tree, also thought it was beautiful. However, he also thought it was time for the tree to go. It was almost 60 feet tall and blocked sunlight from reaching his yard and his neighbor's yard. Because the tree was so large, Gallagher said, he had trouble growing grass, and the people next door struggled to keep their annual garden alive.
Donating the tree worked out for both the neighborhood and the city he's lived in his entire life, Gallagher said.
Gallagher and his children followed their spruce to Railroad Square around 9:30 a.m. to see it placed in Deschenes Oval. Sawdust was flying as Pioneer Tree Service and parks department employees shaved the bottom of the tree with a chain saw so it would fit into a pre-made 5-foot hole.
"It smells like Christmas," Hailey said, sipping hot chocolate and watching the bark fall to the ground. "Right now I don't normally start celebrating Christmas, but now it's like, OK, it's coming soon."