Big mixed-use project almost set to go in West Lebanon
Work expected to begin next summer on 38-acre River Park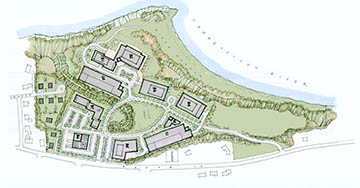 Work is just about ready to begin on the long-awaited River Park, a 38-acre, mixed-use development on Route 10 in West Lebanon.
David Clem of developer Lyme Properties told the Valley News a New Hampshire Department of Transportation driveway permit is the last of a series of regulatory hurdles facing the project. Clem said he expects work to begin sometime next summer.
Plans for River Park include 840,000 square feet of office, retail and laboratory space, as well as single- and multi-family housing and two parking garages totaling 500,000 square feet.
Clem also said he anticipates designing the first building, which will provide retail and office space and is planned for the site of the former Bailey Brothers building on Route 10.
The project's full build-out is projected at 15 years, the
newspaper reported.