BIA readies release of new 'Blue Book'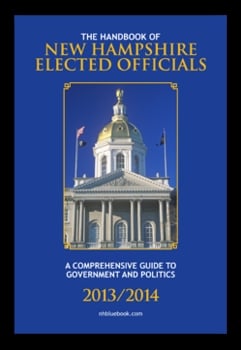 The "Blue Book" — the legislative directory that has had an almost Bible-like reputation among State House denizens for more than three decades — will be coming out in mid-February with a new owner, a new publisher, an online edition, and packed with more information than before.
The Business and Industry Association of New Hampshire bought the "Handbook of New Hampshire Elected Officials" last year from Don Grissom, owner of Northeast Information Services, which has published the book for at the start of each biennium.
Getting its name because of the color of its cover, the "Blue Book" contains biographical information and photos of all state elected officials as well as their committee assignments, selected roll call votes and a list of New Hampshire lobbyists, among other information.
The new version — which also includes a complete list of state agencies and commissioners — is published by McLean Communications, publisher of New Hampshire Business Review, New Hampshire Magazine, New Hampshire Bride, Parenting New Hampshire, New Hampshire Home and various custom publications.
The BIA is also putting the Blue Book online, with a subscription-based, easily searchable website that contains additional information, including graphical committee seating charts — not available in the print version — that can all be accessed through mobile devices, such as smartphones and tablet computers.
Hopkinton-based StoreyManseau LLC, an integrated marketing firm, is developing the website.
"The print edition is a valuable reference tool for business and political leaders and the media, but as with any print publication, it can become outdated quickly when legislators resign or change committees and new legislators take office," said BIA President Jim Roche. "With the print book and accompanying online subscription, users are guaranteed access to the most comprehensive, relevant and up-to-date information about the New Hampshire Legislature at any time and any place."
Subscriptions are available with purchase of a print book, which retails for $49. An individual subscription package with print book is $79 and a corporate subscription package, which includes unlimited users within a company or organization, is $199.Also available for purchase through the website is the BIA's legislative pocket directory for $10.The BIA will continue to offer one complimentary copy of the pocket directory to all association members and legislators.
To reserve a copy of the 2013/2014 Blue Book and subscribe to online content, visit www.nhbluebook.com or call 603-224-5388 ext. 100.