BIA of NH elects officers for coming year
Graphicast's Zanchuk elected board chair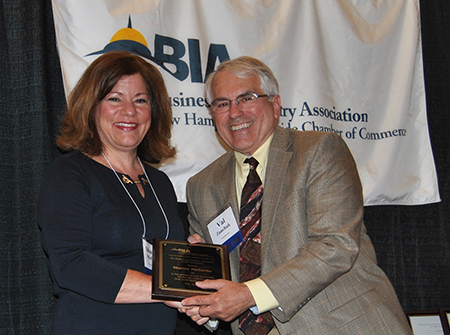 Val Zanchuk, president and owner of Jaffrey-based Graphicast, has been elected chair of the board of directors of the Business and Industry Association of NH.
Zanchuk, who succeeds Sharron McCarthy, president and publisher of McLean Communications, parent company of NH Business Review, was elected May 12 at the BIA's annual meeting.
Also elected were : chair-elect Linda Fanaras, president of Millennium Integrated Marketing; treasurer, Karl Heafield of Baker Newman Noyes; secretary, Scott Ellison of Cook Little Rosenblatt and Manson, and BIA President Jim Roche.
Seven new directors were also elected to the 34-member board: Patrick Closson, director, McLane Middleton, PA; Scott Filion, president, Velcro; Douglas Folsom, general manager – Hooksett plant, GE Aviation; Stephen Lawlor, principal, Nathan Wechsler & Co; Peter Marsh, vice president of market development-Northeast, Comcast; Steven Shawver, executive vice president and chief legal officer, Sig Sauer Inc.; and Thomas White, president, New England Wire Technologies Corp.
The BIA also honored 12 people with their Above and Beyond Awards, presented in recognition for outstanding service to BIA's mission. Winners were:
• Keith Dubois, assistant director; NH Department of Environmental Services Waste Management Division
• Kathy Garfield, president, Robert R. Keller & Associates
• Tony Giunta, senior client manager; Nobis Engineering and Franklin city councilor.
• Chris Hodgdon, vice president government affairs, Comcast
• Kevin Kennedy, partner, Maloney & Kennedy PLLC
• Mark Lambert, senior government affairs executive, Unitil
• Carmen Lorentz, director, NH Division of Economic Development
• Ed MacKay, director, NH Division of Higher Education
• Carolyn Maloney, treasurer, Hypertherm
• Steve Norton, executive director, NH Center for Public Policy Studies
• Bob Scott, commissioner, NH Public Utilities Commission
• Kristine Stoddard, Bi-State Primary Care Association.