Best practices in homebuilding energy efficiency honored
NHSaves honors Drive to Net Zero winning homes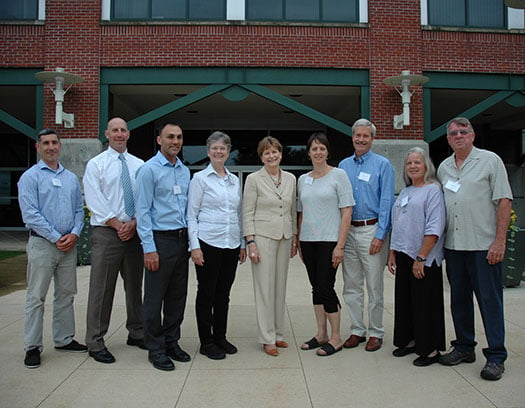 As the first homebuilder to receive certification for a Zero Energy Ready Home in New Hampshire, Unity Homes of Walpole knows what it takes to build green.
That experience and know how is on display at the Newbury residence of Janet Taft. The 3,570-foot home was named the winner of the second annual NHSaves Drive to Net Zero Competition.
"We were doing our best to become net zero and then we started searching for a builder who had the same values that we had," Taft says of her home project that started in 2017. "We were lucky to find Unity."
The team of Taft and Unity was one of three from New Hampshire honored July 18 by NHSaves for embodying the best in energy-efficient homebuilding practices. The winners were recognized during a ceremony at Eversource Energy Park in Manchester.
U.S. Sen. Jeanne Shaheen, D-NH, addressed the crowd, applauding their dedication to building energy-efficient homes and relating her own experiences of building an energy-efficient home in the 1970s.
Her appearance came one day after she and U.S. Senator Rob Portman, R-Ohio, reintroduced the Shaheen-Portman bill, which is aimed at improving the use of energy-efficiency technologies in buildings, industry and by the federal government.
Tedd Benson, founder of Bensonwood and Unity Homes in Walpole and a longtime proponent of net zero building, was the event's keynote speaker.
"There is no reason that buildings today are not super energy-efficient," Benson said. "I want to congratulate all of you tonight for being part of the solution."
NHSaves introduced the Drive to Net Zero Home Competition in 2017 as a design and build competition for single and multi-family homes. Prizes are awarded to the top three entries: $5,000 for first place, $2,000 for second and $1,000 for third.
A total of seven homes were entered in the annual Drive to Net Zero Competition that rewards the commitment to building homes that produce more energy on site than they consume.
The home of Mark and Elizabeth Peterson of Sutton, built by Matthew O'Clair of Newport, took second place while Bruce Williamson, who owns Domus Custom Builders, and his wife Wendy of Etna took third.
The Drive to Net Zero Competition weighs five criteria, including the cost effectiveness of the project, the home's total estimated energy use and, most notably, a home's score on the nationally-recognized Home Energy Rating System Index, or HERS.
"Builders and architects certainly understand the impact building net zero can have, but we are seeing more and more homeowners looking to build this way," says Matt Minghella, Residential Program Manager for Liberty Utilities, one of the four utility partners in NHSaves. "They are doing their research and finding that they are not just being environmentally conscious, but are making a wise and affordable investment."
NHSaves, a partnership of Eversource, Liberty Utilities, New Hampshire Electric Co-Op and Unitil, provides residents, businesses and municipalities with information, incentives and support to help them save energy, reduce costs and protect the environment.