Berlin celebrates completion of capital improvement project
$7 million in infrastructure upgrades hailed as step in revitalization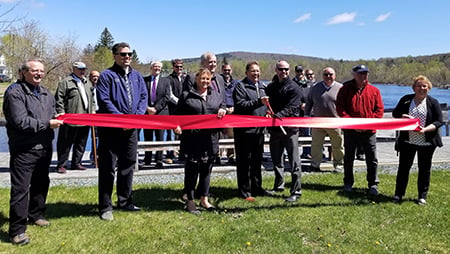 The ribbon was cut May 11 on a long-awaited $7 million infrastructure improvement project along the Androscoggin River in Berlin.
The project includes road reconstruction, new sidewalk, landscaping, a new stormwater collection system and other improvements.
HEB Engineers of North Conway designed and oversaw the project and Sargent Construction of Stillwater, Maine, served as the general contractor.
The project, first envisioned nearly 15 years ago, came to fruition thanks to payments-in-lieu-of-taxes from Burgess BioPower, which helped the city secure additional financing for construction. said Berlin Mayor Paul Grenier.
"Using innovative ways to fund needed and necessary projects shows Berlin's resiliency and our commitment to the city's future," said Grenier.
Originally proposed in 2003, the city shelved the project when it couldn't obtain grant funding and raise matching local funds. In 2011, Berlin began receiving PILOT funds from Burgess BioPower, allowing the city to revisit the Route 16 project in 2013. Berlin secured a new $5.5 million bond, using the Burgess BioPower PILOT to cover the payments, adding to the city's existing $1.5 million bond to fully finance the project.
"The Route 16 project has been a great effort to revitalize Berlin and to support infrastructure. which in turn will spur economic development opportunities for the city," said Executive Councilor Joe Kenney. "The need to invest in new infrastructure to replace old infrastructure is the economic key to any city or town in the North Country. Berlin is doing it right by taking on this commitment."
At the ceremony, officials announced the city will break ground on a riverwalk project along Route 16 and the Androscoggin River in the summer of 2019. The approximately $1.1 million project will be funded by a Northern Borders Regional Commission grant, a Transportation Alternatives Program grant from the NH Department of Transportation and funding from the city.