Benson campaigns in Nashua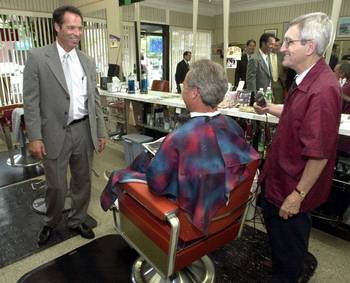 NASHUA – Gov. Craig Benson led a GOP train of sorts through the downtown Thursday, greeting voters as part of his first re-election campaign.
Benson toured the city with four state representatives – two of whom are facing off in a state Senate primary race – an executive councilor and the city's mayor, all Republicans.
The meet-and-greet session ran smoothly, but somewhat off its original schedule, with Benson taking extended time to speak with shop owners, patrons, attorneys and passers-by. He made small talk and occasionally discussed state issues, while welcoming pledges of support.
"It's great," he said of visiting several businesses. "And it's great getting to meet people."
Benson, a founder of the former computer networking firm Cabletron Systems, received framed copies of the first U.S. patent issued to a New Hampshire resident, a gift of the attorneys at the downtown firm Maine & Asmus. The patent was issued to Orford inventor Samuel Morey for his steam-operated cooking spit.
He also met with Beckoning's owners Cathy Kert and Eileen Freedman. Kert wouldn't comment on who she will support in the gubernatorial race, but said "the state's doing great, and we have a good opportunity to grow."
Benson politely reminded Alec's Shoe Store owner John Koutsos that he's "actually running again in November." The governor must run every two years, he said.
Koutsos may have forgotten the length of a governor's term, but he said he appreciates Benson's efforts on the business front.
He also likes Benson's technology initiatives.
Benson also shook hands with Martha's Exchange patrons, including 7-year-old Caylin Bowen, who had previously never met a governor.
The tour was led by city resident Griffin Dalianis, a civilian aide to the secretary of the Army who heads Benson's re-election campaign in Nashua.
Mayor Bernie Streeter, who holds a nonpartisan office, and Executive Councilor David Wheeler joined the tour, as did state Reps. Paul LaFlamme, Henry McElroy, William Mosher, Pamela Price – all of Nashua – and Harry Haytayan of Hollis.
Haytayan and LaFlamme are competing in the Republican primary, along with Joseph DuBois Jr., for the District 12 Senate seat.
Benson also intended to visit Delta Education and Lowell Paper, both in Nashua, before traveling to Laconia.
Albert McKeon can be reached at 594-5832 or mckeona@telegraph-nh.com.