Bedford start-up finds a steady customer in the federal government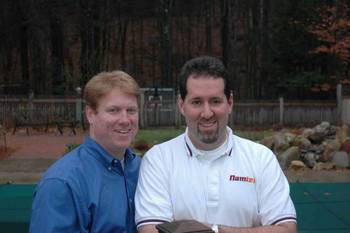 Not many small New Hampshire businesses go from start-up to $500,000 in sales in less than a year, but Namtek Corp. has done just that — by focusing on the federal government as its primary customer.
Bedford-based Namtek was founded in February 2006 by two former employees of Cabletron Systems, James A. McDonald Jr. and Keith Turgeon, both lifelong residents of New Hampshire. Turgeon, a veteran of the Army 18th Airborne and the first Gulf War, handles business development, while McDonald focuses on sales and operations. Between them, they have over two decades of experience in defense contracting, including hardware and software technology, leasing and maintenance services, business services and financing.
Namtek – which positions itself as an information technology solutions provider — has partnered with top-tier technology manufacturers to provide best-of-breed technology solutions meeting the federal government's requirements. The company has already received contracts from the U.S. Army, U.S. Navy, Department of State and the U.S. Marine Corps. As a result, the company has already exceeded its first-year sales goals.
This success is due in large part to its founders' understanding of the government's procurement process and the guidance they received from such resources the New Hampshire Procurement Technical Assistance Program, or NH-PTAP.
Part of the New Hampshire Department of Economic Development's Business Resource Center, NH-PTAP is designed to help New Hampshire businesses sell their products and services to federal, state and local government agencies.
HUBZone program
While the partners both got their start in government technology sales in New Hampshire — and they both have been able to leverage that experience into successful careers in the IT industry — they also realized they needed to optimize their chances for success by leveraging available people and resources.
McDonald and Turgeon had previously seen NH-PTAP's effectiveness from the other side of the table when they worked for a large defense contractor and were involved in contracting with small businesses.
Thus, said Turgeon, "one of our first meetings after receiving our articles of incorporation from New Hampshire was with the staff at NH-PTAP. We knew what we needed to be successful and we also knew we didn't have all of the answers, and that PTAP would help us fill in the gaps. NH-PTAP proved to be more valuable than we were expecting. The guidance we received on how to leverage our small business classification and the introductions we receive to prime contracting has been invaluable."
According to Chris Way, NH-PTAP's director, "Namtek has taken advantage of the services we offer to strategically place themselves to successfully bid on federal contracts, and they've been highly successful. They've been diligent in working with our counselors on the Bid Match process so they receive information on contracts that best suit their business. They've looked at the whole competitive landscape and honed their competitive position to take advantage of their key differentials, like their status as a veteran-owned business."
On another front, the Namtek partners are planning for future growth by evaluating how to implement an insides sales support team in 2007 and 2008. "We are talking to several people within New Hampshire economic development channels about setting up an inside sales team in Coos County, New Hampshire's most northern county, which is designated as a HUBZone or Historically Underutilized Business Zone."
Under the auspices of the U.S. Small Business Administration, the HUBZone program stimulates economic development and creates jobs in urban and rural communities by providing federal contracting preferences to small businesses.
"We would be really excited to bring new jobs and skills to the people of Coos County, however, we will need additional information and guidance from the State and the prime contracting community in northern New England prior to making a decision," Turgeon said.
To qualify for the program, a business must:
• Be a small business by SBA standards
• Be owned and controlled at least 51 percent by U.S. citizens or a community development corporation, or an agricultural cooperative or an Indian tribe
• Have its principal office located within a HUBZone
• Have at least 35 percent of its employees residing in the HUBZone.
NH-PTAP's Way said McDonald and Turgeon "have been the ideal client, in that they understand and have taken full advantage of what we have to offer. Namtek has shown that with focus and diligence, a company can use the tools we provide to become successful in a relatively short period of time."
This article was provided by the New Hampshire Business Resource Center. For more information on NH-PTAP, call 271-7581 or visit nheconomy.com. For more information on Namtek, call 505-8239 or visit namtekcorp.com.