Bakugan baffles adults, bewitches kids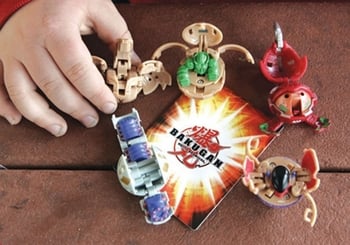 AMHERST – As Wall Street came crashing down last year, the principal of Amherst's elementary schools, Gerry St. Amand, became concerned with a little underground economy brewing in his schools.
But unlike federal regulators who ignored growing problems, St. Amand acted on his concerns and banned Bakugan Battle Brawlers from Clark and Wilkins schools.
Bakugan is game based on a Japanese television show. It involves cards and small, spring-loaded figures that curl into a ball. Players toss the balls like dice onto the cards and then they pop up to reveal futuristic creatures.
"It's marbles meets Pokemon," said Cheryl Pyles, manager of Toyland in Milford. "We sell out every time we get them."
The game has become a favorite of elementary school students, particularly 8-year-old boys.
"They can tell you all about them," St. Amand said. "They are the Bakugan experts."
The game has become a headache for teachers, who have had to break up game play during school hours and stop some children from taking advantage of other students who were tricked or muscled into a bad trade, St. Amand said.
At Heron Pond Elementary in Milford, there were a few incidents of Bakugan appearing in school, according to Assistant Principal Janice Coburn. However, the game hasn't caused any major problems because students understand the school has a "toys belong at home" policy.
Students heading to an after-school program are allowed to keep toys in their backpacks, she said.
"We used to play Bakugan Battle at recess, but now we can't," said Heron Pond student Nick Schelberg, 9.
Although Nick has an impressive-sounding collection, he's hoping to find two more this year. One character he wants looks like a skeleton and the other is a giant hornet.
Other characters in the game include dragons and reapers.
"I wish Bakugan was real," Nick said.
Bakugan games popped up in Amherst right when the school year started, said St. Amand. Right away, the school banned the use of the Bakugan cards as part of a longstanding policy that prohibits trading cards.
St. Amand let the students play with the figures for a while, but conflicts began developing between students.
The ban on the figures was declared before the ice storm, and it appears the ban was successful during the few days school was open before the holidays.
"Not having them has proven to be beneficial," St. Amand said.
A reporter recently went to Toyland in search of this product, and the store was indeed sold out. Apparently, Toyland isn't the only place that has been selling out. Nationally syndicated columnist Michelle Malkin describes the trouble she had to go through to get a set for her son in November. "There are many industries hurting out there," Malkin wrote. "But I'll tell you: The makers of Bakugan are doing just fine. The entire aisle of Bakugan merchandise at Toys 'R' Us was cleared out. Wiped. Gone. The clerk told me they can't keep them in stock."
Toyland has a two-pack limit per family, Pyles said. This prevents adults from buying an entire supply, then reselling them on the Internet for a profit.
Girls like Bakugan, too.
Ask Alyson Callery, 8, of Milford, and her sister, Shannon, 6, about Bakugan and their faces light up.
The Callerys play the game with their friends and confirm that it's very popular.
"It's really cool," said Alyson, also a student at Heron Pond. "They are new to people and are starting to become the new hobby."
Alyson said she has heard about the illegal trades at school.
"My teacher told me about it," she said.
Shannon seemed happy to discuss Bakugan, too.
"They are fun," said Shannon, a first-grader at Jacques Elementary.