Bahres' Winnipesaukee estate offered for $49m
'Most significant offering ever,' says broker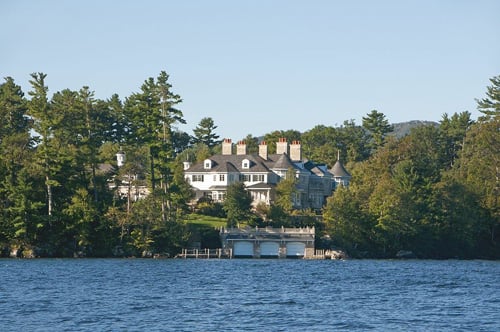 The Alton estate at Clay Point on Lake Winnipesaukee, owned by the Bahre family, has been put up for sale at a price of $49 million.
The 16.5-acre property with 1,594 feet of shoreline, is described by Kristin Hayes Clair of Landvest, the listing broker, as "the most significant offering ever to come to market in New Hampshire."
The Bahre family, headed by Bob Bahre, is the founder and former owner of the New Hampshire Motor Speedway in Loudon, which he sold in 2007 to Speedway Motorsports for $340 million. Bahre and his son Gary also developed and built the Oxford Casino in Maine, which last year was sold for $160 million to the company that owns the Churchill Downs racetrack in Kentucky.
The property includes two homes on separate lots which together have some 63,000 square feet of living space, a 7,655-square-foot post-and-beam entertainment barn that includes a catering kitchen and two-bedroom apartment.
In addition, there are a tea house, two boathouses, an amphitheater, tennis court, helicopter pad, pool and grotto.
The 38,000-square-foot, seven-bedroom main residence sits on 9.48 acres with 733 feet of waterfront, 16 baths and 15 fireplaces and two four-car garages, each topped by a one-bedroom apartment with kitchen and bath. Along with a two-story ballroom, formal dining room and living rooms, the home houses a pub, billiards room, library, gym and theater.
The 24,833-square-foot second home sits on 7.08 acres with 861 feet of shorefront. It features four bedrooms, nine baths and eight fireplaces along with a living room, music room, family room and theater.
While the entire estate is for sale, its two parts are also being offered separately — the larger for $25 million and the smaller for $24 million.
The town assessed the larger parcel at $11,462,300 and the smaller at $7,518,200, according to The Laconia Daily Sun.