BAE Systems receives contract to sustain F-35 electronic warfare systems
Manufacturer strengthens supply chain in preparation for increased demand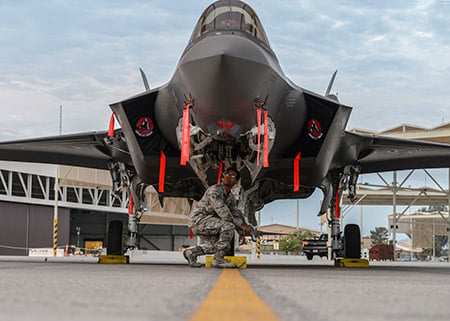 BAE Systems in Nashua has been awarded a contract of more than $100 million from Lockheed Martin to ensure the readiness of critical electronic warfare systems on the F-35 Lightning II fighter aircraft. Under the five-year contract, BAE Systems will manage the supply chain and establish the infrastructure necessary to make sure the systems are mission capable and available to warfighters.
The electronic warfare suite for the F-35, called the AN/ASQ-239 system, protects the aircraft with advanced technology for critical missions. The system's advanced avionics and sensors provide a real-time, 360-degree view of the battlespace, helping to maximize detection ranges and provide the pilot with options to evade, engage, counter or jam threats.
Under the contract, BAE Systems will maintain regional warehouses with on-hand inventories of critical electronic warfare components to improve fill rates and reduce wait times. The company will also establish various metrics that will be used to further strengthen confidence in the supply chain.
"As a leader in EW [electronic warfare] systems for the world's most advanced aircraft, we understand how critical readiness is for our customers," said Betsy Warren, director of F-35 Sustainment at BAE Systems. "We'll ensure that the F-35 EW supply chain is in place for Lockheed Martin and the Department of Defense."