Badger Balm founder named top N.H. Small Business Person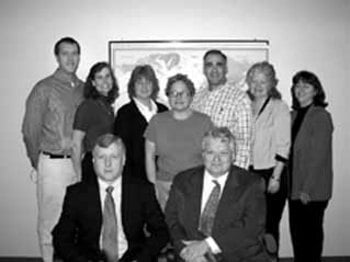 William F. Whyte, chief executive officer of Gilsum-based W.S. Badger Company Inc., has been named the U.S. Small Business Administration's 2005 Small Business Person of the Year for New Hampshire.
Whyte was one of eight winners of SBA awards in New Hampshire. Others included Polyonics of Westmoreland, which not only was named New Hampshire Exporter of the Year but was named the SBA's top exporter in both New England and the entire nation.
Also winning a regional award was Creative Optics of Bedford, which was named the SBA's Region I Prime Contractor of the Year for 2005.
All of the award winners will be recognized at the New Hampshire SBA's annual Salute to Small Business luncheon, May 26 at The Event Center at C.R. Sparks in Bedford. (For further information on the luncheon, contact the New Hampshire Small Business Development Center at 862-2200.)
This year's winners are:
• William F. Whyte, CEO, W.S. Badger Company Inc., Gilsum, 2005 New Hampshire Small Business Person of the Year, is a carpenter who in 1993 created a healing balm to cure dry, cracked hands. The product proved extremely successful, and Whyte increased distribution and expanded his product line and entered into an entirely new area — aromatherapy, cosmetics and personal care. Today Badger products consist of more than 30 balms, potions and natural remedies and the company recently introduced a line of all-natural soaps and body butters. Badger's distribution now includes all of the states as well as several international markets.
• Polyonics of Westmoreland, 2005 Exporter of the Year for New Hampshire, New England and the nation, was founded in May 1995 by Dr. James Williams. The firm develops, manufactures and sells label materials for use in bar code applications. Today the company employs 25 and has become a global leader in label and bar code technology. Polyonics' products have met with wide commercial acceptance and the company's products are currently in use by such corporate giants as Intel, IBM, Motorola, Hewlett-Packard and Sun Microsystems, among others.
• Creative Optics of Bedford, 2005 Region I Prime Contractor of the Year, was founded by Dr. John F. Ebersole in 1982. Ebersole serves as president and principal scientist of the family-run business, which also includes Ebersole's wife of 37 years, Ingrid, and his son John Jr., serving as vice president and chief technology officer, respectively. The company is a research and development "think tank" and continually reinvents itself by bringing breakthrough solutions using state-of-the-art technology from the R&D stages through to implementation. Dr. Ebersole is internationally known for his work and currently holds 10 awarded patents.
• Lisa DeStefano, founder of DeStefano Architects in Portsmouth, the first-ever 2005 Woman Business Owner of the Year, founded her firm in 1995. It has since grown into a 10-person firm with over a million dollars in annual revenue. Recent commercial work in downtown Portsmouth includes the luxury Porter Street Townhouses, the expansion and renovation of the Portsmouth Gaslight Company and the multi-use 28 Deer Street building. DeStefano Architects also designed Portsmouth's largest commercial project, the Hilton Garden Inn, for which ground was broken in March.
• Peter and Leslie Van Berkum, co-owners of Van Berkum Nursery in Deerfield, have won the Jeffrey H. Butland Family Owned Business of the Year. The nursery is a wholesale perennial nursery selling over 800 varieties of plants to retail nurseries and landscaping contractors. The Van Berkums started their business in 1987 and in 1989 relocated to Deerfield and situated the nursery on 22 scenic acres. (Jeffrey Butland was the SBA's Region I administrator who died in August 2004.)
• Deborah Anderton, vice president, The Berlin City Bank, 2005 Financial Services Champion of the Year, has served as a lender and mentor to North Country entrepreneurs for the past 20 years, making the extra effort to look at each individual situation to see if there is a way that she can help. Assistance has come in the form of loans, but also through business counseling provided by a network that ensures she can provide whatever type of assistance her customers need.
• Linda Lin, founder of Butternut Design of Bedford, 2005 Women in Business Champion of the Year, founded her business in 1996 and provides customized business and computer consulting services to a wide variety of clients, ranging from small local companies to Fortune 500 companies. Lin joined the board of the Women's Business Center in 2001 and a year later became the board's chair. She has not only volunteered to improve the functionality of the organization, but has also volunteered to teach several well-received classes and has led several WomenBiz Roundtables.
• Lewis M. Roch III of North Hampton, 2005 SCORE Counselor of the Year, volunteers with the Seacoast chapter in Portsmouth. He is being recognized for his service and the tremendous entrepreneurial spirit that he willingly shares with both his clients and fellow SCORE volunteers.