Ayotte touts 'Manufacturing Universities' legislation
On tour of Nashua firm, senator discusses workforce needs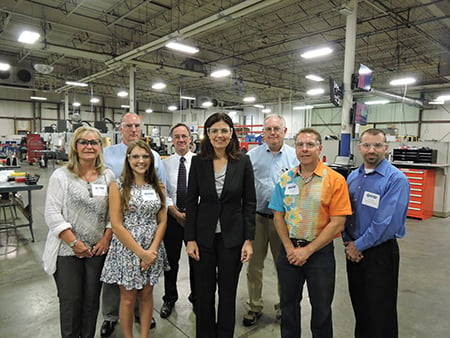 U.S. Sen. Kelly Ayotte, R-NH, took the opportunity during a recent visit to a Nashua prototype manufacturing firm to highlight legislation introduced in the Senate that is aimed at helping schools strengthen their engineering programs and meet the growing demands of 21st century manufacturing.
Ayotte discussed the Manufacturing Skills Act, bipartisan legislation she introduced with U.S. Sen. Chris Coons, D-Del., that is designed to incentivize advanced manufacturers to partner with other stakeholders, like local officials and business leaders, to establish job training programs that better fit local workforce needs.
The bill would designate 25 universities as "Manufacturing Universities" and provide incentives to better align educational offerings with the needs of modern manufacturers. The incentives would be used to bolster universities' efforts to focus on manufacturing engineering and curricula specifically related to targeted industries.
On her tour of The Rapid Group facility, the senator also met with company officials to discuss its partnership with Nashua Community College on a job training program.
"Partnerships like the one between The Rapid Group and Nashua Community College are vital in the effort to create, grow and fill manufacturing jobs in New Hampshire and across the United States," said Ayotte.
Rapid Group manufactures metal prototypes, from sheet metal, machined and stamped prototypes to custom wire harnesses and cable assemblies.