August EYE Award Winner: Josh Mesmer and Chris Mohan, owners, Expert Oil X Change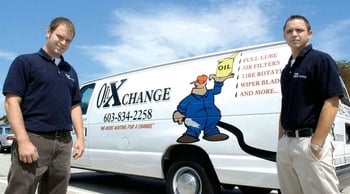 When law students Joshua Mesmer and Christopher Mohan decided to take advantage of a promised 10-minute oil change at a nearby quick-lube facility during a lunch break, they were sure they would have time to squeeze in a bite to eat before returning to class.
To their frustration, however, the 10 minutes quickly turned into a half-hour and the students returned to their books with no lunch. What they did have, however, was an idea for a new company – one that would bring oil changes and other quick auto services to customers at their homes or offices, eliminating the need to waste time waiting in line.
That was in the spring of 2004. By July of the same year – in the midst of their law studies – Mesmer, 25, and Mohan, 26, founded Expert Oil X Change LLC in their hometown of Manchester.
Today — less than a month after completing the Massachusetts bar exam — the two find their mobile oil change business on the verge of expansion and are pleased to be able to offer customers a viable, convenient alternative to waiting in line and going hungry during lunch hours in order to have their car serviced.
"We do everything a quick lube does," said Mesmer. "But we'll do it at your home or office and we'll do it for three or four dollars less than the quick drive-in places."
The two offer everything from the standard oil change for $28.95 to three-part engine tune-ups, fluid checks and refills and tire rotations. Mesmer and Mohan will even recharge air conditioning, check tire pressure, lube the chassis and change wiper blades. And they do it all from their mobile service van.
In addition to servicing individual customers, Mesmer and Mohan have built a strong following among area car rental companies from Manchester to Boston and area businesses that offer the service to their employees during the workday.
Although thoughts of the future for Mesmer and Mohan do include pursuing law careers, the growing demand for the services of Expert Oil X Change have the two entrepreneurs thinking about adding to their service fleet and hiring additional employees, according to Mesmer.
"We've never been working someplace and not had somebody come up to us and ask for a business card and just say 'Wow, this is great,'"Mesmer said.
Here are some of his answers to other questions about the business:
---
What inspired you to start your business?
Our lunch hour experience started the whole thing, but once we got thinking about it we thought it was just too cool of an idea not to pursue it. Every person that drives a car needs to have their oil changed and nobody likes waiting in line.
What about this endeavor are you most proud of?
The fact that we're actually running our own company, answering only to ourselves and our customers is great. But I think we're really proud of taking this idea to the next step – from concept to reality – and watching it continue to grow.
Where do you see your business 10 years from now?
There is no reason this business can't continue to grow. We'd both love to see locations throughout New England. Maybe even a franchise. Everyone should want to use us rather than having to wait in line during lunch or after work or on Saturdays when everyone else is getting their oil changed too.
How do you kick back?
Well up until very recently there was no such thing as down time for us. Now that the company is doing so well and the bar exam is behind us, we're both enjoying doing things that everyone else enjoys – spending time with family and friends and trying not to think about law or oil changes.
Who are your role models or sources of inspiration?
Our parents have been big influences for both of us. They all work hard. Chris's mother owns her own business, my mom owned a bookstore and is a teacher and my father is a lawyer. He always had a knack of copying great articles about companies that have made it big from magazines like Inc. or Forbes and leaving them out for me to read – they were great inspirations.
What is it about New Hampshire that's kept you here?
Chris and I both grew up here, we both went to Central and then to UNH. We have a great support system around here and that is so important to a start up company. Our distributor – Mighty Distributing – is here. We can stop in whenever we need to so everything we need is always available to us and they're always great about offering advice, that's been really important.
What advice would you give other entrepreneurs like yourself?
Building a successful company doesn't happen overnight. It's a gradual process and you've got to keep plugging away at it.
The Emerging Young Entrepreneur awards program is presented by New Hampshire Business Review in partnership with Centrix Bank. The monthly award honors New Hampshire's young business owners for their creativity, determination and business success. Visit Centrix Bank online at www.centrixbank.com.