August exports continue to show solid gains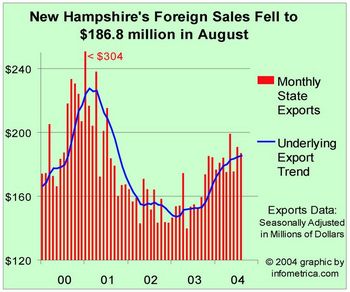 Foreign sales from New Hampshire companies receded in August as global demand for locally made goods retreated from its high levels in the previous months.
Shipments abroad from New Hampshire exporters pulled back by 2.1 percent in August, following an 8.7 percent rise in July. The recent snapshot in international trade accounts brought New Hampshire's foreign sales to $186.8 million, seasonally adjusted, which is $4 million less than the previous month. Despite this decline exports still remain high; August's reading is the third highest mark in three years.
On an annual basis, last August's volume in state exports shows solid gains in foreigners' demand for goods made in New Hampshire. In August of this year, exporters sent abroad $34.2 million, or 22.4 percent, more goods than in August of 2003.
Manufactured goods, an engine to export growth and a key creator of local jobs, accounted for 83.6 percent of all state exports in August. Foreign shipments from manufacturing companies fell in August by 5.2 percent from the previous month to $156.2 million, adjusted for seasonal variation.
Are New Hampshire manufacturers who do business abroad better off today than a year ago? August's shipments from state factories were $34.3 million, or 5.2 percent, higher than in August of last year.
The dominance of exports of manufacturing goods is a major source of export-related factory jobs. The relationship between production, employment, industrial mix and composition of trade shows the connection between exports and jobs.
There are two stages of jobs generated by exports. The first stage involves manufacturing jobs directly related to exports, such as workers in factories producing the final product for the global markets. The second stage includes factory jobs that are indirectly related to the final exports, such as workers who manufacture materials that enter into the production of the exported products. This is known as the "spillover effect" within the manufacturing sector.
In New Hampshire, for every 100 jobs in the first stage, there are 63 additional jobs that support it in the second stage of production. Combining both stages of export-related employment, one in every four manufacturing jobs in the Granite State is tied to exports.
Exports of non-manufactured goods went up 17.7 percent in August to $30.6 million, seasonally adjusted. This group of shipments abroad consists of agricultural goods, mining products and re-exports, which are foreign goods that entered the state as imports and are exported in substantially the same condition as when imported.
For the country as a whole, U.S. exports of goods, seasonally adjusted, edged down 0.1 percent in August to $67.4 billion from July. Increases occurred in consumer goods and automotive parts and engines; decreases were felt in industrial supplies and materials, foods, feeds and beverages; capital goods were virtually unchanged.
Prospects for N.H. exports
Exports growth is a convenient way to look at the strength that state companies gain access to worldwide markets, New Hampshire ranked 15th in export growth among the 50 states during the first eight months of this year.
Compared to the same period in 2003, foreign sales from New Hampshire's companies, seasonally adjusted, increased by an annual rate of 19.5 percent. National exports rose 13.2 percent during the same period.
What are the prospects for exports over the next 12 months for New Hampshire? In its latest forecast for the global economy, the International Monetary Fund noted that the global recovery remains solid, with economic growth in 2004 projected to reach its highest rate in nearly 30 years. IMF predicted worldwide output, the driver of global demand for consumer goods and business supplies, to jump by 5 percent this year and 4.3 percent in 2005.
Regarding economic prospects in major countries whose buyers fuel the demand for state exports, the IMF predicts vigorous growth in Asia – particularly China and Japan – growing momentum in Europe, and strong recovery in Latin America.
More important for New Hampshire's exporters, the IMF predicts buoyant international trade activity for the rest of this year and in 2005.
Specifically, the volume of world trade is forecast to surge by 8.8 percent in 2004 and 7.2 percent in 2005, following a 5.1 percent increase in 2003.
As a result, New Hampshire companies doing business abroad will continue to witness strong export orders from their major foreign markets.
Evangelos Simos, chief economist of the consulting and research firm Infometrica Inc., is editor for international affairs for the Journal of Business Forecasting and professor/department chair at the University of New Hampshire. He may be reached at eosimos@infometrica.com. This column is distributed by Infometrica Inc.