At NHMS ceremony, Hassan signs 10-year transportation plan
'Transportation infrastructure is critical to the success of our people and businesses,' she says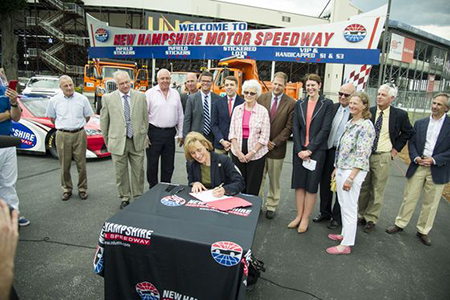 Gov. Maggie Hassan, who officially signed into law the 10-year state transportation plan on June 23, visited NH Motor Speedway to ceremonially sign the bill, which spends nearly $4 billion on highway and other transportation improvements in New Hampshire.
At the ceremony in Loudon, the governor said, "Continuing to strengthen our transportation infrastructure is critical to the success of our people and businesses, helping to spur economic development and boost our economy."
In fact, among the projects contained in the plan is the first phase of widening a portion of Route 106, which leads to the speedway and "is critical for access" to the facility, said the governor.
The plan also includes increasing funding for completing the widening of Interstate 93; accelerating construction of Exit 4A in Londonderry and Derry to 2019; and resurfacing an additional 200 miles of roads per year and replacing or rehabilitating an additional 23 red-listed bridges. The plan also focuses on preserving good roads now as well as bridge preservation.