At mid-year, N.H. economy keeps chugging along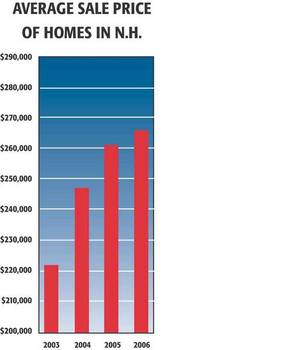 Question 1: What would happen to the New Hampshire economy when the housing market bubble deflates, interest rates start climbing and the price of fuel tops $3 a gallon?
Question 2: Won't the economy collapse?
Answers: 1. Nothing. 2. No.
For years, economists have been asking the above questions. The economy seemed to be like the public perception of Barry Bonds — artificially powered by the equity created with inflated housing prices and low interest rates. What would happen when the power driving the economy grows weak? This is the year to find out.
So far this year, the housing market has softened. The number of homes sold fell by 10 percent in the first five months of this year compared to last. Existing homes are languishing on the market longer and the average price of a home over that time ($265,000) has risen by 1.4 percent, compared to 5.8 percent last year and 11.6 percent the previous year.
Residential housing permits declined by more than 4 percent for the 12 months ending in April.
But it must be remembered that the statistics are being compared to an overheated market. That's why economist Russ Thibeault, president of Applied Economic Research in Laconia, calls what New Hampshire's economy is going through a "soft landing."
"I know that inventories are growing and more property is on the market. Buyers today are not as panicky. They can be more selective," said Thibeault.
New Hampshire Association of Realtors President Kathy Corey-Fox calls the current state of the real estate market "an adjustment" to the "frenzied" double-digit increases of the past.
In other words, this is a normal market.
"I'm not hearing gloom and doom anywhere," said Fox, "Any appreciation is appreciated."
Some would even argue that the housing slowdown may even be good for the economy. The lack of workforce housing has been the cry of business leaders for a while. How can they recruit workers who can't afford to live here?
"The slowdown has its advantages," said John DiNapoli, business development manager for the New Hampshire Business Resource Center. "When a company comes in there will be more housing available for employees."
In fact, for the first time in recent memory, the increase in housing costs has not kept pace with inflation.
Speaking of inflation, energy price increases seem to have infiltrated the entire economy, and when inflation goes up, so do interest rates. It's no longer advantageous to refinance that mortgage. Besides, banks and mortgage companies are tightening up a little on some of the loan terms now that interest rates and foreclosures are beginning to surface more.
And, also like Barry Bonds, the economy keeps on going, no matter what is thrown at it. Although it is not exactly moving at the torrid pace of old, it inexplicably pushes ahead, as if powered by some force — perhaps momentum or perhaps any number of other factors, including high-tech startups, homeland security spending, continued growth in the financial services and health sectors or the simple willingness of consumers to continue to spend.
The state's unemployment rate remains still low, at 3.3 percent as of May, very similar to what it was last May (3.6 percent).
Employment picture
"Usually housing moves with the rest of the economy," observed Dennis Delay, a Manchester-based economist. "But this year it has been out of step. The housing market is cooling, but the economy has been gaining strength."
"Gaining strength" might be a technically correct term, but the gain appears to be incremental. Yes, the state's economy has been spitting out more jobs, but not enough to actually spit at. Job growth as of April is up 1.1 percent from the year before. The previous year it was up 1.6 percent. Historically jobs have grown at a 2.5 percent yearly pace.
"It's hard to be excited by what I see in employment," commented Peter Bartlett, an economic analyst for the state Department of Employment Security.
A look of the recent hiring and lay off announcements (compiled by Delay) fills in some of the details. Liberty Mutual Insurance and Fidelity led the way in job creation, again. On the minus side are manufacturing companies like Car Component Technologies, Celestica (which took over much of Cabletron's manufacturing), Nashua Corp., the Fraser Papers pulp mill and Polyclad Laminates.
Some manufacturing job additions have been announced in the last number of months, primarily in the biotech industry — GlycoFi Inc., Lonza Biologics, Stryker Biotech — or homeland security sector, including Axsys Technologies, Kollsman and the Portsmouth Naval Shipyard.
A quiet growth might be contributing to the economy, the kind of growth that won't show up in any statistics for years to come. And that's high-tech research and development, again primarily in the biotech sector.
Commercial real estate brokers like Michael Monks of Nashua, can catch a whiff of it, in the growing demand for R&D space, even while the demand for larger industrial space has been declining.
"The economy itself is starting to see more of an interest level, particularly among high tech," said Monks. "The strongest market is R&D and flex space."
Startup effect
Jim Cook, a Manchester attorney who specializes in high-tech ventures, has seen a steady stream of nondisclosure agreements cross his desk as smaller companies merge and grow.
"People are trying to do deals," he said. "There is an increased level of activity."
While some of this is financed by so-called "angel investors" the biggest investors seem to be the federal government, particularly in the homeland security sector, spending on everything from nanotechnology to biotech.
Of course, startups don't create many jobs, and this generation's new businesses, perhaps wanting to avoid the pitfalls of the Internet bubble that burst at the beginning of the new millennium, has been particularly cautious about taking on new employees.
"They are really delaying hiring," said Hollis McGuire, regional manager of the Nashua branch of the New Hampshire Small Business Development Center. "They are very conservative when it comes to spending."
Yet they do provide some hope for the state's economic future. And some startups just take a long time to get going. Take Powerspan Corp., formerly known as Zero Emissions Technology. It began in New Durham in 1994 and recently landed its first commercial contract, a $100 million pollution technology system for a power plant in Akron, Ohio.
"It's a long sales cycle," understated Stephanie Procopis, director of marketing for the company.
Living from angel to angel and small demonstration projects, the company will finally be able to pay back some $60 million in private investment, and — contract in hand — will be able to attract more investment.
The company's 55 employees outgrew the company's New Durham facility, where R&D still takes place, and the administrative and commercial engineering departments are now at Pease International Tradeport in Portsmouth. Look for more expansion in the future, Procopis said.
Consumer power
But for the present, most of the economic expansion in the state can be blamed on the usual suspects — consumers. After all, consumer spending accounts for two-thirds of the economy.
Consumer confidence is still relatively high — even with the high cost of gas — though there was a slight dip in May. Even though consumers can't get much cash out of their homes anymore they still — for the most part – have jobs. And a credit card.
"Consumer are still willing to spend like crazy," said Thibeault. "We have a negative savings rate. We are spending more than we making, and that continues to stimulate the economy."
Consumer discretionary spending generally falls into two categories: stuff and fun.
People are still buying stuff. A rainy day will drive a family faster to the malls than a mini-van can. Nationally, retail sales were up 8 percent last month, compared to May of last year, and while there aren't any figures locally, Nancy Kyle, president of Retail Merchants Association of New Hampshire, hasn't heard any complaints from her members.
"This economy isn't doing that badly. People are in pretty good shape, and this kind of weather helps retailing," Kyle said.
Of course, it's hard to spend money on outdoor fun when there is little snow in the winter and a deluge in the fall and spring.
Yet those visiting the Granite State found a way, primarily because more of them had already made their reservations weeks before they listened to a weather report.
The state's Division of Travel and Tourism Development has been able to advertise to more markets, including New York and Philadelphia as well as the Midwest and Canada, where a strong dollar has driven tourists south of the border.
And the marketing has paid off. Last year tourists came from farther away, stayed longer and spent more.
"People aren't going to look outside their backyard in Ohio to see if the skiing is good in New Hampshire," said Victoria Cimino, communications manager for the division.
The December snow also helped things a bit, conveniently putting down a nice base, but most ski areas make much of their own snow anyway. So while the scant 35 days of snow (compared to 65 the year before and 85 the year before that), did keep away some visitors last winter, the 6.2 percent drop "wasn't a major hit by any means" especially since these winter visitors spent $835 million, nearly a 5 percent increase over last year, she said.
The state doesn't know exactly how the rains affected spring tourism, though Michelline Dufort, president of the New Hampshire Lodging and Restaurant Association, said that she heard from her membership that many motels were hurting, particularly in the North Country.
But spring has always been the state's off-season. The true test is during the summer, which usually accounts for 40 percent of all tourism spending. And while nobody can predict the weather, the state travel and tourism division has predicted one of the best summers ever. The division expects the state to match the 13 million visitors it attracted last year, and for them to spend $1.6 billion, 3 percent more than last year.
Fueling the optimism has been a 14 percent increase in the number of visitors to the state's Web site. That's partly due to growth in online usage – witness a 5 percent drop in the orders of Visitors Guide – but not totally.
As for the price of gas, Cimino just shrugs it off.
"I complain more about how much cost me to work than how much it cost me to go on vacation," she said.
Another shot in the arm this summer will be the new ATV park in Berlin. While it isn't officially open it already has drawn so much interest there's an attempt to open up some trails for the summer.
A good summer would be good news to the North Country, which could use some, especially after the shutdown of the Berlin pulp mill. That closing will be partly offset by Public Service of New Hampshire's wood-fired plant, but that not only takes less scrap wood then the pulp mill, it is located on the Seacoast.
The weather also has played havoc with the timber industry. The winter was too warm, causing a mad rush to harvest during the early spring, all of which came to a halt during the May flooding.
"We went from famine to feast to famine," said Jasen Stock, executive director of the New Hampshire Timberland Owners Association. "It has been a shock to the system, a blunt reminder that we are dependent on favorable weather."
The industry also is dependent on changing fashion, as more and more of the market shuns red oak and white pine.
Still, said Stock, "If you have quality you can move it," he said. Of course, that could be said about any business.
So there you have it. The economy is still humming along. If, and when, it will stall, nobody knows. The old concerns are still there. What if interest rates really shoot up? What if housing prices actually go down? What if consumers wake up to their debt? What if energy prices climb even higher?
"It's easy to write a negative scenario," said Thibeault. "The question is, how far in the future do you put it? When does it click in? But for now, so far, so good."