Assistant dean of UNH's engineering college to speak March 22
Dr. Glenn Shwaery will talk about his experiences as a researcher and entrepreneur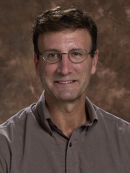 Dr. Glenn Shwaery, assistant dean of research at the University of New Hampshire's College of Engineering and Physical Sciences, will speak about his experiences as a researcher and entrepreneur on Thursday, March 22, as part of the Wildcatalyst Seminar Series held by UNHInnovation.
Dr. Shwaery helped start and grow the Newmarket, NH-based company ArgenTech Solutions, which started out selling handy wipes for cleaning the skin of toxic metals. Over the last 10 years, the company has successfully pivoted and innovated to become a world-wide provider of complex technical services in support of drones for both government and commercial clients. Dr. Shwaery will talk about how ArgenTech's team of four founding members were broadly trained and possessed complementary skills that allowed them to pivot and take advantage of opportunities as they were presented at UNH as well as through SBIR and NHIRC grants.
Dr. Shwaery will also discuss his newest venture, IdeaShare, which is developing a redesigned manual wheelchair. IdeaShare also just won the Social Venture Innovation Challenge (SVIC) community track at UNH.
Dr. Shwaery has a lot of experience successfully leveraging university resources like research, equipment, and expertise to develop and expand his commercial ventures.
The talk will take place from 4:30 – 5:30 p.m. at the UNHI Co-Working Space at 21 Madbury Road in Durham, with networking and free refreshments from 5:30 p.m. – 6:30 p.m. Click here to register.