As state population ages, growth slows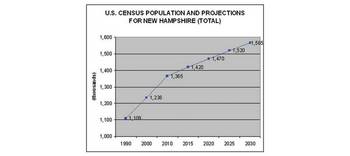 New Hampshire's population growth is slowing down, says the state's top planner.
"I think the big thing is that our growth is declining – we're not growing as fast as we have been, really, since 1960. We've had our ups and down since then, but those were due to short-term forces. It looks to me like this time, the lower growth rate is going to be around for a while," said Tom Duffy, a planner with the state's Office of Energy and Planning.
More people have been moving out of New Hampshire while the number moving in has remained the same, Duffy said as the agency released its latest population projections.
According to the figures, the state's growth has slowed since 2000, when it was adding 19,000 people per year, to the current 11,000 people annually.
"This is the first time the state has seen a decline like this during favorable economic situations. I think that's really different for the New Hampshire experience," Duffy said.
But even with the lower numbers, New Hampshire is likely to remain the fastest growing states in the Northeast, which is one of the slowest-growing parts of the country, Duffy said.
The data show that the state is losing younger people and holding on to baby boomers, a trend that's showing up elsewhere in the country.
From 2000 to 2005, Duffy said, the population of people ages 25-34 rose throughout the nation by almost 1 percent, but it fell by 7.3 percent in New Hampshire with people moving out of state. Big declines also were shown for children younger than 5 and grade-schoolers ages 5 to 9.
In contrast, the retirement-aged population should make up a quarter of the state's total by 2030. People 65 or older make up 12 percent of the state's population. The projections say that by 2020, that may be 21 percent, or one person in every five, and by 2030 it could be as high as 28 percent, or one person in every four.
Also, according to the projections, Hillsborough County will continue to be the most populous of the state's 10 counties, and Rockingham Country will continue to be the second-biggest. These two counties between them have slightly over half the state's population.