As homelessness grows, merchants bear the brunt
Queen City storeowners ask for solutions to a bigger problem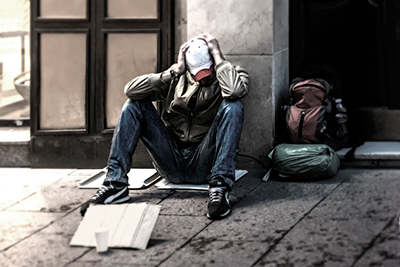 Each winter, merchants and restaurateurs in downtown Manchester hope freezing temperatures, snow, ice and bone-chilling winds will not significantly reduce the flow of foot traffic that brings customers to their stores and restaurants. But at any time of year, there are some visitors who are unwelcomed.
"Before it was an annoyance. Now it's hard to walk down the street without being asked 10 times for money," said David Perry, owner of The Bridge Café on Manchester's Elm Street, and one of many in the city's central business district who have voiced their concerns about loiterers and panhandlers hanging out around and sometimes entering into their places of business.
"I've had people come in here that were very drunk in the middle of the day. I'm not a bar," Perry said. "I've had people panhandling in here. I've kicked them out." During the warm weather months, when tables are set up outside, "They're asking people for money while they're eating their meals."
For the most part, he said, the requests come from people who are "very nice about it. They're not aggressive." But the activity disrupts business at his and other establishments, he said.
"We need to pull the community together on this issue and get everybody — the public, business owners, elected officials — on the same page."
"We live off each other. You don't want to see anybody's business being disrupted," he said. "The mayor comes in here often. We've had meetings. I know it's a different era, I know her hands may be tied. Police come in here all the time," he said, as a patrolman walked through the café, exchanging greetings with customers.
Manchester police have added a foot patrol to deter criminal activity in the downtown area, but as Perry observed, "The police know what they can and can't do."
Two doors down, Jason Williams, a bartender at The Pint, said, "There are always people outside here. It's always been a problem, for a couple of years. It's gotten better, little by little. And it's winter," he added, with cold weather limiting the number of people hanging out on the sidewalks. "Most of the time they're just standing or sitting outside. They ask people for cigarettes or change," Williams said.
"Most of them are polite. They don't hassle people."
But Kevin Stevens, owner of Penuche's Music Hall and Sports Bar sees the frequent requests as harassment.
"They're coming in constantly, harassing customers for change or cigarettes. I'm usually here six or seven days a week, and I see them coming in day after day with the same untruthful story. 'I've run out of gas, can you spare a couple of dollars?' I'd rather see the city, if it could, help them in a different way instead of having them constantly going up and down the street."
Increasing complaints
The concern was echoed by several owners and employees of businesses on Elm Street, the city's main thoroughfare, who say the presence of panhandlers on the city streets is an ongoing problem.
"It has been for us because of the way it looks out front," said Jonathan Clarke, a shift leader at the Gyro Spot. "It causes people to veer away from us. Just their presence can be a nuisance and bad for business." Asked if the panhandlers he'd observed had been aggressive or confrontational, Clarke said, "There are a couple of them, but the majority are not. They're not being physical, not being troublesome."
Savannah, an employee at Subway who gave only her first name, said panhandling is only part of the problem.
"It's not so much panhandling, it's mostly some of them coming in wanting to use the bathroom. They usually go in there and mess it up. Sometimes they pee everywhere except in the toilet, or somebody goes in there to drink or use drugs. Once someone came out and did drugs right in the middle of the store."
Complaints about panhandling and related issues have increased in recent years, along with the ongoing problem of homelessness in the state's largest city.
In January 2015, Manchester Police Captain James Soucy, of the Community Policing Division, issued a report saying a "growing number of complaints from area businesses and citizens alike generated a push to deal with the ever growing number of panhandlers in the city."
In June 2017, Nick Willard, then chief of police, cited the issue of panhandling as "the number one complaint I receive from the Manchester community."
As a public safety measure, police in 2015 began to issue summonses to people who were soliciting donations from motorists along public roadways. Later, a city ordinance was passed prohibiting the giving or receiving of items to or from the occupant of any automobile on a public road. The ordinance was overturned in U.S. District Court two years later on a constitutional challenge by Theresa Petrello, who was charged with disorderly conduct for taking money from a motorist as she stood on a grassy area between the sidewalk and the road near the corner of Maple and Bridge streets. She was holding a sign that identified her as a "veteran."
Because Petrello "never stepped into the road to either solicit or collect donations," ruled Judge Landya McCafferty, the ordinance "burdens substantially more speech than is necessary to further the city's legitimate safety issues."
"The Supreme Court has recognized that a sidewalk is a public forum," said Elliot Berry of NH Legal Assistance. "We're not talking about anybody making threats or extortion."
Berry, who joined Gilles Bissonnette of the ACLU-NH in representing Petrello in the suit, said, "A simple request for money in a public space is constitutionally protected. No doubt."
Petrello was awarded $89,000 from the city, most of which went to lawyers' fees, Berry said. "Most of it went to the ACLU. We got some of it."
Lack of housing
The issue came back into the news in late December when Ward 3 Alderman Tim Baines, whose ward encompasses much of the downtown business district, posted on Facebook that he had witnessed two men pass out on Elm Street near the Bridge Café. He called 911, but people came and carried the two men away before the police and ambulance arrived.
A video in the posting shows two men seated on the sidewalk while a third is seen arguing with a policeman and firefighter. One of the men, wrapped in a blanket, is seen picking up his mat and walking away.
Baines, whose own restaurant, Mint Bistro, is but a few doors away, said the incident shows why the city needs to come to the grips with the problem.
"I think there's some disconnect between what people want law enforcement to do and what law enforcement can actually do," Baines said. "That's all the more reason we need to pull the community together on this issue and get everybody — the public, business owners, elected officials — on the same page on this issue."
Baines would like to see social workers "on the street daily in Manchester, educating the homeless population as to what services are available to them. Public Health should be out there, along with our Welfare Department. In addition to that, I think we need to have a laser focus on the communities that are not doing their fair share. Some of our services are overrun by individuals from other communities, and without a significant plan put together by elected officials and stakeholders in our community, these services will continue to be overrun."
"The crisis we're talking about on Elm Street is just the tip of the iceberg of homeless problems we're currently experiencing," said city Welfare Director Charleen Michaud. "What we don't see are the homeless families. Those families are doubled up with other folks. They're couch-surfing."
The city Welfare Department spends $83,000 a year for the exclusive use of four of 11 units of family housing provided by the nonprofit Families in Transition-New Horizons. Individuals or families may also receive assistance in getting food stamps or, in an emergency, food from the department's food pantry, Michaud said.
The director and her caseworkers also refer people in need to the Families in Transition-New Horizons of New Hampshire overnight shelter, where two meals a day are served.
"One of the biggest problems is the lack of affordable housing," Michaud said. Welfare can, in some cases, help with rental payments, but that doesn't help someone who can't find a place to rent.
"We're really focusing on homeless prevention," Michaud said. "We want people to come in when they're five days late on their rent, not when the eviction papers have expired. Once a person becomes homeless, it's far more difficult to re-house them."
Mayor's initiatives
Signs posted at certain intersections around the city encourage people to donate to New Horizons of New Hampshire, Families in Transition or Child and Family Services (recently renamed Waypoint) as an alternative to giving money to panhandlers. Michaud also named the Salvation Army, Southern New Hampshire Services and Health Care for the Homeless among agencies and programs in the city available to those in need.
Mayor Joyce Craig has announced a series of initiatives to alleviate the problem of homelessness in the city, including a proposal to spend $130,000 of Community Development Block Grant funds for improvements to the New Horizon shelter. The plan calls for a reconfiguration of spaces in the facility to create areas for recovery from substance abuse, along with "rehabilitation of inadequate and severely deteriorated bathroom facilities."
New Horizons is closed between breakfast and the evening meal, but Craig proposes spending $70,000 from the Affordable Housing Trust Fund to keep the shelter open during the day. The $70,000 will cover the first six months, with further funding to be considered in this year's budget deliberations.
More than a decade has passed since a coalition of public and private nonprofit agencies came together to create a "Ten Year Plan to End Homelessness in the City of Manchester," but the first-term mayor expressed confidence that going forward, "we will work tirelessly and collaboratively to put an end to homelessness in Manchester."
Meanwhile on Elm Street, the combination of panhandling and drug abuse on city streets is something business owners continue viewing with varying degrees of concern and alarm.
"I have had people come in here so high the customers were scared," said Lee Gentile, franchise owner of the Ben & Jerry's ice cream shop. "It used to be just panhandling. Now they're in groups and they camp out." Or they "come in and take over the bathroom," she said. "We have to go in and clean up and hope there's no drug use," adding that she once found a hypodermic needle there.
"I know the aldermen are working with a lot of groups in town with some of the different services," she said, though some of the poor and homeless refuse what help is available. "There are shelters and facilities for them, but they won't go. It's like we're fighting a losing battle."