Aroma Joe's continues to expand in New England
Popular coffee establishment opens 42nd location in NH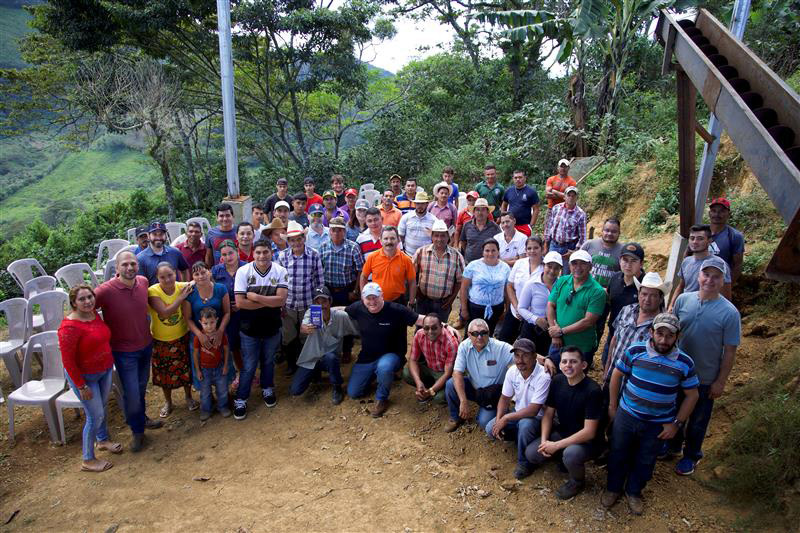 Aroma Joe's coffee blends are grown in Honduras and Brazil by local mill farmers — shown here with AJ CEO Loren Goodridge — and then craft roasted in Topsham, Maine.
America may run on Dunkin', but New Hampshire runs on Aroma Joe's, whose 42nd location just opened in Belmont, tying with the number of Starbucks locations in the Granite State. Not many coffee houses can say that, let alone manage to keep up with the barrage of Dunkin' locations sprouting up on every other street corner.
Now in its 23rd year of business, Aroma Joe's has been able to keep up with the competition, delivering coffee and tea beverages to devout customers who prioritize unique food experiences and friendly service over speed and price.
"We're always looking at innovative offerings," said Carrie Riley, Aroma Joe's chief marketing officer. "We want to make sure that, whatever we offer, we curate it. … We're very clear on what we are and what we're not. You look at different brands where they say that they want to be beverage-led and want to drop parts of their name. We don't want to do that."
From iced macchiatos to flavor-infused beverages and even a line of energy drinks, Aroma Joe's is more than just coffee — it's a local destination that caters to its customers' preferences. Their signature AJ's RUSH Energy Drinks and all-day food offerings have become popular in New Hampshire, primarily because of the friendly and upbeat environment each franchise provides.
Familial roots
Aroma Joe's started in 2000 when four cousins — two sets of brothers: Marty and Tim McKenna, and Mike and Brian Sillon — wanted to bring a taste of the popular espresso hut culture from the West Coast to New England.
The cousins saw the opportunity, but wanted to make their first location in Maine more about customer experience. "People can start your day with positivity," remarks Riley. "It started there and organically grew as a brand."
It wasn't until 2012 that the cousins partnered with Loren Goodridge, now the company's CEO, who was familiar with franchising opportunities thanks to a long stint at Subway. With Goodridge's resources and knowledge, Aroma Joe's sprouted more locations — there are now 97 Aroma Joe's throughout Maine, Massachusetts, New Hampshire Connecticut, Pennsylvania, Rhode Island and Florida.
Similar to its competitors, Aroma Joe's is all franchise-owned. Each location has its own staff and owner that work closely to impart the AJ brand in the products and experience they provide to their customers.
"We have to find the right partner; find the right person to fit the business brand values that we have," Riley said. "The growth is strong and fast. We know the franchisees. I know their families, get Christmas cards. It is family owned. From baristas to people that work at corporate, they're good people.
They take care of their employees. It's amazing when you get to work for a company that walks the walk, and you can tell that."
That sense of family translates directly into the products and service each location offers, where jovial staff greet customers and aromas incite the senses to everyone who drives up. Most AJ locations are drive-thru only, but that doesn't deter a positive customer experience.
"We just have to make sure that the people we pick are going to be representative of what we all feel proud about," Riley remarked.
To increase their local support, Aroma Joe's offers a College Ambassador program for young individuals who represent the company brand on their social media platforms, often giving out gift cards on their school's campus. The program is designed to give college students experience, but it also increases the familial bonds that customers often feel when visiting their local Aroma Joe's.
Rainforest Alliance certified
In 2018, Aroma Joe's leadership decided to double-down on their coffee's sustainability efforts, so they looked to change up their coffee program by becoming Rainforest Alliance certified.
The process is far from easy, but being involved with the progression of coffee bean growth to serving beverages at each store was a calculated move that certainly paid off.
Riley shared that a team from Aroma Joe's will often go to Honduras, where the mill is located that grows and packages the beans they use in their products, to ensure the process is streamlined and follows the strict regulations the Rainforest Alliance imparts on certified establishments.
"The founders wanted to be involved with the company; it's their baby. Every decision that's made, they want to see it with their own eyes."
Another part of their yearly trip to Honduras is to ensure the field workers are getting paid as they should. Riley explained how Aroma Joe's leadership will pay above the usual price, so when the coffee beans come in from the mill, they pay a premium to the farmers so they can build and buy better equipment and facilities for themselves.
"These are actual farmers with families to support, so the impact is huge," said Riley.
What's next?
Aroma Joe's isn't done yet, as they plan to open more locations this year, which started with their newest stores in Belmont and Hudson.
Riley indicated they plan to bring on 25 locations this year in Maine and New Hampshire, although she mentions Connecticut and Florida are also expanding.
"Chilled beverages this year is a big focus. Chilled beverages as a whole for coffee places is huge with Gen Z and millennials. For us, we're very lucky. People come into our brand, and because we are a little bit of a younger brand, we hook them and we keep them. And that's where a lot of our competitors aged out a little bit."
Regardless of what they offer, customers can find something they like at Aroma Joe's, and with the amount of care given to the overall experience, competitors like Dunkin' and Starbucks have much to worry about in New Hampshire.