Area roads, airport busy but manageable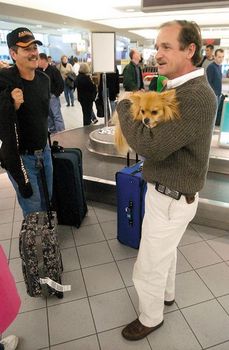 MANCHESTER – On the day before Thanksgiving, one of the busiest days of the year at Manchester Airport, the check-in counters for each of the major airlines were filled as families lined up to catch their Thanksgiving flights.
For the first time since 2001, experts say holiday travel is back up to pre-9/11 levels with millions of people moving about the country. Yet airline passengers here in New Hampshire seemed to agree that things were going smoothly – for the most part.
Tom Welnak of Keene was waiting for his bags at the luggage claim area. Welnak, a college student in South Carolina, was returning home for the holiday. He said that his trip from Columbia, S.C., via Charlotte, N.C., had gone OK despite a half-hour delay in Charlotte.
Kim Sibley, also of Keene, picked Welnak up on her way back to Keene from Boston, where she attends college. Sibley said traffic on the way up only slowed her down about 15 minutes.
Paul Elliott of Barrington waited with his Pomeranian named Peanut, while his brother-in-law and sister picked up their luggage.
Elliott's brother-in-law, Tommy Henry of Charlotte, N.C., said of his trip, "It wasn't real busy. It went real well. I'm surprised."
Elliott himself sounded surprised at how easy it was to find parking at the airport, which has undergone major renovations and additions during the past few years.
"This airport has come a long way in the past four or five years," he said.
"Heck, it's a lot more convenient than Boston."
But the day did result in delays for some people. Bradford Heath of Newmarket and his wife, Gail, sat and played gin rummy while they waited for their son to arrive from Atlanta, Ga. The flight had been delayed about an hour and 20 minutes, Heath said.
"We've always flown from Manchester. This is about what we expected," he said. "Imagine what Logan's like."
Tales of traffic woe were forecasted to be great in the next few days.
This holiday weekend 30.6 million people, or 3 percent more than in 2003, were expected to hit the road during the holiday weekend, even with gasoline prices nearly one-third higher than a year ago, according to a survey conducted for AAA by the Travel Industry Association of America. An additional 6.6 million are likely to travel by plane, train or bus.
Brian O'Neill, Manchester Airport's public relations director, said Wednesday seasonal travel appears to be up 10 percent to 15 percent over last year's figures. O'Neill said nearly every department of airport operations had extra staff on hand to handle the expected rush, and that things were running well.
Airport operations couldn't prevent some flights from arriving late, however.
Erik Marschhausen and his wife, Jennifer, waited in front of the security checks with their 10-month-old daughter, Clara. They drove over from Townsend, Mass., to pick up Jennifer's sister, who was arriving from Florida.
The family arrived to find that the incoming flight had already been delayed an hour. So, they got some food and watched the arrival board while a steady drizzle blanketed the runways outside.
"It's supposed to land in about four minutes," Erik Marschhausen said. "But if there's more downtime, I'll probably go to the truck and get the baby bottle."
Jennifer Marschhausen said they chose Manchester Airport because Logan is twice as far away from them. And with another long car trip to Maine ahead of them, every minute saved counts.
"We're going to Belgrade, Maine, after we pick up my sister," Jennifer Marschhausen said. "That will probably turn into a five-hour drive with the weather."