Area Kerry supporters feeling the defeat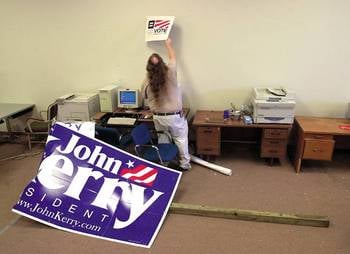 Their dreams were as torn as the banners they unenthusiastically removed from the walls of what they had long considered a victory campaign office.
New Hampshire volunteers for John Kerry on Wednesday slowly accepted that their efforts had won the state but could not transfer to the other 49. They vowed to remain active politically, and expressed hope that Kerry and President Bush could seek common ground in Washington.
"As they were saying on 9/11, we were all together, and that was an awesome feeling," said Kerry volunteer Sue Harman at the campaign's Nashua office. "Now, we're so polarized."
Harman and other volunteers numbly disassembled an office that had become a home over the past few months. They reminisced on the friendships made there, but returned focus to what the next four years will bring with a president they wanted desperately out of office.
bring with a president they wanted desperately out of office.
They still lack confidence in Bush's leadership, and have little faith the president will address unemployment, job outsourcing and the environment to their liking.
"You will see people more motivated now," said Michelle Carter, a Cambridge, Mass., resident who started volunteering on a full-time basis last week. "People are really mad. It's time to change."
Carter visualizes the many people who sought some role in the political process – many of them for the first time – staying driven. She thinks the war in Iraq, and how Bush handles it, will continue to draw a response, and she sees a movement forming to review the Electoral College.
Not far from Carter, Mike Robert stretched for some hard-to-reach banners. He found some consolation in Kerry's loss.
"My contribution made a difference," he said. "I got Kerry a win here, and got (Democratic gubernatorial candidate) John Lynch into office."
Kerry bested Bush in New Hampshire, 340,019 votes (or 50 percent) to 330,848 (49 percent). The win nabbed Kerry four electoral votes, but he still trailed in the overall electoral count, 279-252, with Iowa's seven undetermined.
These volunteers could not fully grasp – at least in the early afternoon – that Kerry had conceded, his decision not to challenge his close loss in Ohio putting an end to a long campaign. But hours later, particularly after Kerry publicly urged the country to move forward, other local supporters found a sliver of hope in the defeat.
"He did the right thing," Nashua firefighter Mike Migneault said of Kerry's next-day concession. "He does have to go back to work."
Migneault and other firefighters watched Kerry's speech in the cafeteria of the Amherst Street firehouse. They occasionally cracked jokes during the televised address, but thoughtfully looked at the future once the speech ended.
Migneault and Capt. Keith Anderson supported Kerry. They could not believe Ohio would favor Bush despite record levels of unemployment there, but they could see how – if the pundits are correct – Ohioans agreed with the president's social stances.
"He did pretty well," Migneault said of Bush. "Maybe it's us."
Anderson, for one, does side with the president on social matters, but he thought Kerry would better handle the economy. He would like both parties to work better, but he said Democrats will have a difficult time pushing an agenda.
Firefighter Mark Proulx voted for Bush, but he also wants more bipartisan cooperation. He actually wishes for a political system that had no parties.
"It kills me that if it's a Republican idea or a Democratic idea, the other side won't do it," Proulx said. "The real goal is to listen to what your constituents tell you."
New Hampshire Democratic Party spokeswoman Kathleen Strand said state Democrats went to bed expecting Ohio to remain close in the morning, and that they shared the attitude that it was worth waiting yet another day for a favorable result after working for a Kerry victory for a few years.
"But then this morning, when it became clear the numbers weren't going to add up, we thought, 'We've got to keep moving on as a country.' We saw what the Florida recount did to our country. If there was a fight, we would have fought it."
Nashua attorney Bill Barry, a Kerry supporter who was exhausted a day after the election, found solace in Kerry winning this state but not the country.
"The optimism that the Democrats take from this, by winning New Hampshire for John Kerry, is we probably protected and secured our first-in-the-nation primary status at least for the next cycle," Barry said. "You cannot overstate the importance of that and how it brings enthusiasm, energy and so many other things here."
Barry hopes that part of Bush's legacy is that he attempts to unite the nation. He thinks that could happen with Kerry and other Democrats meeting the president halfway.
As for the future of his party, Barry said Democrats will need "a family discussion" to see what stances need review in the platform, including some social issues. For instance, Barry views gay marriage as a civil liberty matter, but he recognizes now that many people who see it as a religious issue made the difference for Bush in Ohio.
"The question is, 'Am I out of touch with the way general people view that?'" he said. "There's no question that issue on the ballot in Ohio is a prime reason we lost."