Area businesses charged up over Northern Pass transmission proposal
The charged battle is one that will wage for years, as the project is only now in its early permitting stages, and ground is not expected to be broken on the project until at least 2016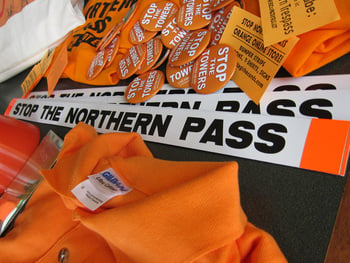 The groundswell of residents and environmental groups opposing the proposed Northern Pass transmission project includes a cross-section of businesspeople who say that they have as much — or more — to lose as anyone if the $1.1 billion project is approved.
"This would absolutely destroy the tourism business up here, without a doubt," said Wayne Charron, who owns a gift shop and mini-mart in Campton, among other businesses. "People don't want to float down the river looking at high-tension wires and towers."
These businesspeople, many of them outspoken and very public in their opposition to the proposal, have thrown their support behind the grassroots campaign against Northern Pass, which would snake 180 miles through northern and central New Hampshire.
Businesses have lent their support to the various groups formed to oppose the project — the No Northern Pass Coalition, Live Free or Fry and Bury the Northern Pass — all with the shared goal of keeping Northern Pass away from the New Hampshire landscape.
Among their claims, and they have many, they say the transmission line is nothing short of a land grab by Public Service of New Hampshire that would hamper tourism, further depress the real estate market in an already depressed region and break state law by trying to use eminent domain to seize private property for private gain.
In turn, Northern Pass LLC — a joint venture of Northeast Utilities and NStar — has launched a massive public relations campaign in an attempt to swing public opinion in favor of the project, which would transmit 1,200 megawatts of hydropower from Quebec to the New England power grid.
Among its claims, of which it also has many, it contends Northern Pass would beef up New England's long-term energy portfolio with a steady source of renewable, low-cost power, create up to 1,200 construction jobs for New Hampshire workers and bring in millions in tax revenue for towns and the state.
On the face of it, there doesn't seem to be much room for compromise between the two sides:
• Opponents argue that the project isn't necessary, since New Hampshire currently produces more energy than it consumes. Proponents say the power will be cheaper and cleaner than existing energy sources and will diversify the regional power grid.
• Opponents say the jobs are temporary, while proponents argue a three-year project isn't temporary for any construction worker.
• Opponents say the line could be buried underground, or rerouted through Vermont. Proponents say it's too expensive and would disrupt the environment.
The list of grievances goes on, and for each claim there is a counterclaim. The charged battle is one that will wage for years, as the project is only now in its early permitting stages, and ground is not expected to be broken on the project until at least 2016.
"It will be with us for a while," said Martin Murray, spokesman at PSNH, whose parent company is Northeast Utilities.
'An economic issue'
Northern Pass opponents in the North Country say they intend to turn it into a major campaign issue as the race for the governor's seat warms up.
"I invite other people in office to come out against Northern Pass," said longtime North Country Executive Councilor Ray Burton, who last December announced his opposition to the project, which he equated to "an extension cord dragged over the top" of the region. "It's an economic issue."
Burton recently sat down with NHBR editors and some New Hampshire businesspeople to discuss their concerns about the transmission line, which Northern Pass LLC would own and lease to Hydro-Quebec for 40 years.
While the power line has been in the planning stages since at least 2008, specifics about the project weren't publicly revealed until last October, when Northern Pass LLC filed for a presidential permit to cross the border.
That application detailed a 180-mile, high-voltage transmission line that would travel from the New Hampshire border to a converter station in Franklin, then over to PSNH's existing substation in Deerfield.
Depending on terrain, the more than 1,000 proposed towers would loom anywhere from 80 to 135 feet, and would be spaced about 800 feet apart — or, about one every two-and-a-half football fields.
The majority of the line would be built along the utility's existing rights of way, except for a 40-mile swath from the border to Groveton that has been the source of much of the public outrage toward the project.
PSNH's Murray summed it up delicately when he said Northern Pass's initial proposed route through those first 40 miles "wasn't winning a lot of fans in the North Country."
Angry North Country landowners and others who lived along the route came out in tidal waves to public comment periods to denounce the proposed project and its threat of using eminent domain to construct the new right of way.
They wrote to elected officials, launched websites and made T-shirts, magnets and road signs in a shade of orange rarely seen outside the Halloween aisle.
Lawmakers also introduced House Bill 648, a measure clearly aimed at the Northern Pass, which would stop "public utilities from petitioning for permission to take private land or property rights for the construction or operation of certain transmission facilities."
PSNH lobbied against HB 648, saying it could block future necessary upgrades to New Hampshire's transmission system. The bill was overwhelmingly passed in the House by a vote of 317-51, but has been tabled for further study until next year.
'Prudent avoidance'
In response to the public pushback, Northern Pass announced that it was reconsidering its plans north of Groveton with intentions of patching together a route with the support of landowners. That route would be announced by mid-June, it said.
So far, no alternate route has been announced, but Northern Pass has reportedly been buying up parcels of land further east than initially proposed, in the towns of Dixville, Columbia and Pittsburg.
"We have no intention of this project depending on eminent domain," said Murray. He said the utility is working as hard as it can to secure agreements with landowners, though he did concede that eminent domain would be used if necessary.
Tom Mullen, founder of the No Northern Pass Coalition, has become one of staunchest opponents of what he calls the utility's attack on property rights. He pointed to Article 12-a of the New Hampshire Constitution, which was passed in 2006 and bans the use of eminent domain "if the taking is for the purpose of private development or other private use of the property."
"This project needs eminent domain," said Mullen. "They have chosen to become a merchant-funded transmission line. That means it's a private, for-profit project. It has not been determined that we need it."
Mullen is co-owner and developer at Owl's Nest Resort and Golf Club, a 700-acre golf course and housing development that straddles the Campton/Thornton line.
He said that the Northern Pass towers — which would pass through Owl's Nest on an existing PSNH easement — would devastate property sales. In fact, the threat of the project alone has already damaged his real estate business, he said.
"We've already seen a dramatic slowdown in both quantity of sales, and in the last three or four months, no sales, which should be our busiest time of the year," said Mullen. When a lot does sell, he said, its average price has plummeted from $175,000 to about $55,000.
This is what Jeanne Menard calls "prudent avoidance," and as owner of Paradise Properties, a residential real estate company in Deerfield, she said she has experienced it too.
"The damage already has started. When you are trying to market your property and a proposed project is in the pipeline, that stigmatizes that property," said Menard.
"I professionally have experienced a few buyers who have elected not to purchase properties in Deerfield period, not even because of the proximity to a line," she said. "People are now becoming aware of it and are asking about it and obviously would choose not to make a purchase because of it."
Charles Wheeler, a selectman in Campton, said the town has received an "unusual" number of phone calls from residents asking about property tax abatements.
Opponents claim that any tax revenues generated by Northern Pass — which PSNH estimates at about $25 million annually — will be offset by reduced property values.
But Northern Pass officials contend that the transmission line won't have a negative effect on property values, pointing to the findings of two reports that it commissioned for a hearing before the Senate Judiciary Committee.
"If you look at the facts, there is not a significant impact in terms of property value," said Murray. "It does not impact sales to the degree that some of the opponents of this project are claiming."
One preliminary study was conducted by Brian Underwood, an appraiser and owner of B.C. Underwood LLC in Rye.
For his study, he looked at properties in Littleton and Deerfield — selected to represent both ends of the line — and, after identifying every property in those two towns that abutted high-voltage transmission lines, he singled out all the properties that had sold since 2000.
Once arm's-length sales and foreclosures were excluded, that narrowed it down to four properties in each town. In each case, he spoke with someone involved in the sale, none of whom indicated proximity to the corridor had negatively affected the sale, he said.
"Based on my preliminary study, there's no indication that properties that abut high-voltage transmission lines are impacted," Underwood told NHBR.
Those closer to the corridor even tended to sell more quickly than the average home in those towns, he said.
"In most cases, the properties that abutted the utility corridors that sold, their average marketing periods — the time that they were listed to the time that they sold — was actually less than the average marketing period of all houses in that same period," he said.
Menard said she found it "incomprehensible" that Northern Pass was using the preliminary study as evidence that property values wouldn't be affected, stressing that each property along the proposed route has its own unique circumstances to consider.
"I don't want a few sales to pronounce trends," she said.
Effects on tourism?
The other report commissioned by Northern Pass was a literature review conducted by Russ Thibeault, president of Applied Economic Research in Laconia.
For that, the economist looked at every study that had been published in two major appraisal journals since 2000 about the impact of high-voltage transmission lines on property values. Of the nine studies he reviewed, most referenced previous studies, so all told his review included the findings about 50 studies from across the country.
He found that most studies reached the same conclusion: that the power lines have "a modest or no measurable impact" on value.
Still, in an interview with NHBR, Thibeault was quick to stress that whether the Northern Pass would have an impact on property values could only be determined on a case-by-case basis — something that he did not do for the review. He also pointed out that many of the studies had been funded by utility companies.
"The impact of something like (Northern Pass) really becomes a matter of people's perceptions. If everybody thinks something's going to have a negative impact, the chances of it having a negative impact are much greater," said Thibeault.
"None of these studies reflect what people are thinking of the Northern Pass, none of them reflect the route, the economy of northern New Hampshire or New Hampshire in general. Because of that, I don't have an opinion. They don't really point to a conclusive statement as to the Northern Pass," he said.
Thibeault also said it wouldn't be possible to draw conclusions about impacts on property value until a final route is revealed.
In addition to an impact on property values, opponents say the towers would also have a negative impact on tourism in a region where it is the biggest industry.
But Murray called that claim "absurd." All of the state's infrastructure, from its highways to power lines to scenic byways, had to be built at one point, and now they've become part of the backdrop of the state, he said.
"There are transmission lines and power lines all around," he said. "They're not something that jump out at you — they become part of the landscape."
That's not how Randy Farwell feels. Farwell owns Alpine Adventures in Lincoln-Woodstock, a year-round outdoor adventure park that offers canopy zip line tours and off-road adventures.
PSNH already owns an easement on his 300-acre property, but he said he's worried about towers cutting through his property that could literally be twice the height of the existing poles.
"Obviously the visual impacts are huge there," said Farwell. "I feel that it would definitely affect us, and I'm the face of tourism up there."
Councilor Burton expressed the same feeling, saying that the state basically told the North Country that it would have to depend on tourism as its other industries suffered.
"Look out these windows," said Burton, "and this is pretty much all we've got left."