Are you ready for the 18 toughest N.H. golf holes?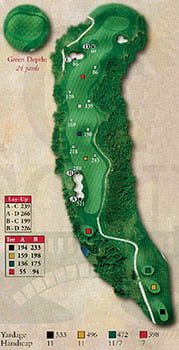 After watching Tiger Woods once again cruise to a victory at the British Open — held at the Old Course at St. Andrews in Scotland — I noticed the course looked deceptively simple. No gimmicks — just bunkers, hillocks, wind and the occasional sand and water hazard.
I began to wonder about the toughest golf holes in the Granite State. I'm still learning to keep my head down, my knees bent and not ricochet one off the windmill, but if you got your game on, try these 18 holes as recommended — or is that cautioned? — by pros from around the state.
Bill Hamblen, director of golf at The Balsams in Dixville Notch, said that many say the 18th hole there is the toughest hole in the state. Nicknamed "High Heaven," it measures 560 yards from the champion tee — and changes in elevation some 145 feet. Uphill. "You can't see the top of the green. It's very hard to judge," said Hamblen.
Hamblen said The Balsams' 14th par 3, "Near Enough," is much harder than its 214 yards make it seem. "It's also uphill. You can see only part of the green and there's a bunker left of the green that you can't see at all," he said.
The "Slipperier" 11th hole (the 10th hole being merely "Slippery") would seem like a decent par 4 at 331 yards — except the green is downhill. "The green is devilish. Three or four putts are not uncommon," said Hamblen.
The 356-yard 9th hole, "Old Dome," requires another killer putt. The green is uphill with little approach. Hamblen said, "You need a long drive to the foot of hill, then putt uphill."
Scott DeVito, head professional at Pease Golf Course in Portsmouth, said Pease's 6th hole, a 360-yard par 4, can be very tricky, with its beautiful but "hazardous" environmental area and dogleg to the left.
Pease's par 5, 530-yard 13th hole also will test players. "There are water hazards off the tee and an out-of-bounds off to the right. You need three good shots to the green to really manage the ball well," said DeVito.
Beyond Pease, DeVito said the 12th hole at Portsmouth Country Club was "a bit of a bear" as a long par 4 at 465 yards, and the green on the 4th hole at Abenaqui Country Club in Rye was "built by the devil." Two-tiered with a 6- to 8-foot rise, the green is only about 10 feet wide.
The head professional at Mt. Washington Resort at Bretton Woods, Andy Craig, said the resort's golf courses have several challenging holes.
Number 14 is a 235-yard par 3, which is long for a par 3, according to Craig. "It plays like a classic Donald Ross-designed hole, like Pinehurst. It's an elevated, domed green with hazards of thick woods all along the right," he said.
Craig said the 6th hole on Mt. Washington's Mount Pleasant course is a "nasty" 450-yard par 4. "On the right side, you have the Ammonoosuc River. On the left, you have woods and a horse pasture. Plus, it's an elevated tee with a dogleg left. If you shoot straight, you go into the river, if you shoot left, you end up in a field."
The 3rd hole on the Mount Pleasant course is the one that greets guests when they arrive at the resort. "There is a pond right off the tee, so your first shot you have to stay away from the water. The second shot has to go over the water. Every year, the scuba drivers recover just thousands of balls," said Craig.
Outside of the Mt. Washington, Craig said he's heard from other golfers that the Shattuck Golf Club in Jaffrey is a "tough, tough course. I haven't had a chance to play it yet, but I heard it's killer."
Gary Philippy and John Jelley of the New Hampshire Golf Association had a veritable list of not exactly "par for the course" golf holes.
The 10th hole at Stonebridge Country Club in Goffstown is a par 5 with hazards along the right, all the way up to the hole, which is embraced by a dogleg.
The 12th hole at Lake Sunapee Country Club in New London is also 235-yard uphill battle.
Manchester Country Club's par 3 230-yard 16th hole has an elevated green with grass traps all around it. "They should have left the traps as sand," said Philippy. "It was hard enough as it was."
Philippy said the 18th hole at Cocheco Country Club in Dover is a wicked 460-yard par 4 with a pond just short of the green. "You have to lay it up short," he said.
Beaver Meadow Golf Course in Concord has a challenge waiting for golfers at the 15th hole. At 440 uphill yards and a severely sloped green, it will take at least three or four strokes before you can sink that ball into the cup, said Philippy and Jelley.
Concord Country Club's 8th hole is a par 4 at 430 yards. "It has an elevated green with a small approach and balls like to kick off to the bunker," said Philippy.
He also said Portsmouth's 18th hole has 450 long uphill yards. "It's long and it's always windy there," he said.