Are region's millennials ready to buy?
RE/MAX forecast predicts they'll fuel 2015 housing market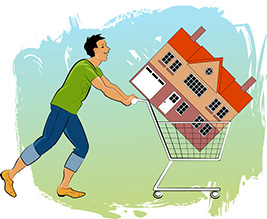 Millennial buyers are expected to play a significant role in the 2015 housing market across the region, according to a housing forecast released by RE/MAX of New England.
In addition, the company expects the region will continue to experience inventory shortages in desirable areas, while consumers should expect to see higher interest rates in the second half of the year.
RE/MAX of New England cites the convergence of increased consumer confidence, a rebounding local economy and continued low interest rates to create a steady, consistent housing market throughout much of New England in 2014. Inventory shortages in desirable areas drove prices up, but throughout much of the region, overall home sales decreased over 2013 numbers, the company says.
The first quarter of 2014 saw lower-than-anticipated sales throughout New England, but as interest rates and oil prices ticked down, and the weather heated up, pending sales throughout the region hit double-digit increases year-over-year. Price increases coupled with inventory shortages helped to motivate buyers from the sidelines resulting in a busy spring and summer market. Investors took a backseat in 2014, as fewer distressed or under-valued properties entered the market.
According to the report, single-family and condominium home transactions were steady throughout New England in 2014, creating a very similar market to what was experienced in 2013.
At $227,900, the 2014 average median sales price of a single-family home in New Hampshire was up 3.6 percent over 2013 figures. Single-family home transactions decreased 1.6 percent year-over-year according to NNEREN, while condominium transactions decreased 0.5 percent and prices increased 4.3 percent.
"Across New England, we experienced extremely moderate price increases," said Dan Breault, executive vice president and regional director of RE/MAX of New England. "Single-family homes increased 0.8 percent on average, while condominiums fared better, rising 2.7 percent over last year's prices. This is the type of appreciation we expect to see in a healthy market and helps set the stage for what we can expect to see in 2015."
To read the entire RE/MAX of New England 2015 Housing Forecast, visit remax-newengland.com.