Architects' project has designs on fourth graders' future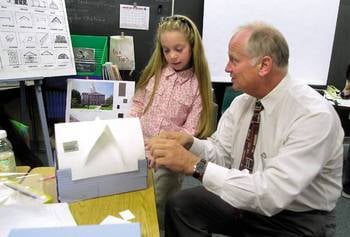 NASHUA – When Matthew Pourfakhrai designed a clubhouse for himself, he wanted to make sure the outside was steel so it would be protected, and the inside had a mini movie theater, a bathroom and a small room to hang out in.
Pourfakhrai, 9, and the rest of his fourth-grade classmates at Main Dunstable Elementary School made their own model clubhouses to scale as part of a project called Learning by Design, run by the New Hampshire chapter of the American Institute of Architects.
Pourfakhrai's favorite part of the project was putting the walls into his house, which was made with a cardboard shoebox.
"It was one of the most important parts," he said as he pointed to each room in the house.
Pourfakhrai said the project was "really fun," and many of his classmates agreed.
Nine-year-old Victoria Sharland's clubhouse included two bowling lanes, an in-ground swimming pool, a homework room, a kitchen, a bathroom and a bedroom for her parents, herself and her best friend.
She wanted to have a special room to do school work because she likes it to be very quiet when she does her homework at night, she said.
What she liked most about her house was the shape of it.
"It's sort of like a real house because it has four sides and you can fit it with the roof," she said.
Learning by Design is a three-week project in which design professionals volunteer their time to teach three classes about architecture in their community, designing skills, and how to apply the skills they learn by building their own structures.
Bruce Hamilton, principal of Bruce Ronayne Hamilton Architects in New Ipswich, is a board member of the AIA, and said the program will most likely be expanded in the state within the coming years.
This is the first year the Learning by Design program is being held in New Hampshire, and volunteers from different architectural firms all over the state have volunteered to teach the classes. The program has been offered to students from eight New Hampshire fourth-grade classes who entered a lottery to be chosen.
Scott Vlasak, 28, a senior associate with Bruce Ronayne Hamilton Architects, said he had a lot of fun teaching the kids at Main Dunstable.
"The kids are very creative," he said. "They have a lot of great ideas."
When he was in fourth grade, he didn't know he wanted to be an architect yet, but a program like Learning by Design wasn't offered to students back then, he said.
Shahil Patel, 9, was very excited about the program and said it made him want to be an architect when he grows up. His house included four playrooms, two television rooms, a bathroom, a kitchen, two sports equipment rooms and a grand hallway.
"I really like playing," he said, when asked why he designed his house the way he did.
Teacher Donna Dye said the students were very excited about the program. Their enthusiasm, she said, will help them remember the skills they have learned in making their model houses.