Apps that help Realtors on the go
They 'make their jobs easier and more efficient'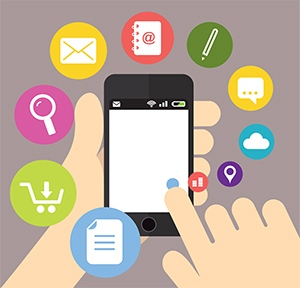 Most real estate professionals carry mobile devices that provide them with amazing amounts of information at their fingertips.
"Realtors are often out and about and very rarely at their desk, so having the latest mobile devices is key to their success," said Matt Kasper, director of sales for U.S. Cellular in New England.
According to Kasper, Google Play and the Apple App Store offer numerous options to real estate professionals "to help make their jobs easier and more efficient."
Among the apps Kasper said U.S. Cellular recommends to help simplify and enhance life for Realtors on the go:
• A number of apps help you see what properties are listed for sale in local Multiple Listing Services. Realtor.com, Zillow and Trulia are some of the more popular in this category. These apps can help Realtors keep track of the newest listings and they all use a map feature to allow you to see what is for sale in a certain geographical area.
• AgentView is a free Android and iOS app that features confidential and agent-only information about homes for sale. The app allows real estate professionals to access information, such as private remarks, lockbox information, showing instructions, find the listing agent name and contact information. The app is available to agents that are members of the online real estate resource Property Minder.
• Available in both the Apple App store and Google Play store, TinyScan, by Appxy, allows you to turn your smartphone or tablet into a portable scanner and share your PDF documents via email, upload to DropBox or transfer to other devices through WiFi drive. It's free for the basic app or $2.99 (Android) or $4.99 (iOS) for the full version.
• The Supra eKey for Android and iPhone is an app and companion smartphone adapter that turns the smartphone into a lockbox key. Users can obtain listing keys wirelessly, manage and program lockboxes, and change codes in the field. The companion adapters are $54.95 for iPhones and $44.95 for Android smartphones and the MLS or a local provider sets a monthly fee.
• Mortgage Calculator & Mortgage Rates by Zillow offers mortgage calculators to help you calculate your monthly payment and refinancing costs. The app also features access to current mortgage rates and trends using interactive graphs. The app is available for free in both the Apple App Store and Google Play Store.