Appledore wins $22 million Navy contract
For inspection services covering the Northwest, Alaska and the Pacific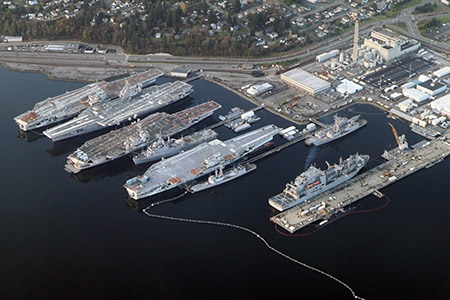 The U.S. Navy has awarded Appledore Marine Engineering of Portsmouth a five year, $22 million contract for waterfront inspection services for a region that includes the Northwest, Alaska and all Pacific U.S. territories, including Guam, Wake Island, American Samoa and Midway Island.
"Our task with this contract is to assure operational readiness for the naval facilities in this vast region," says Noah Elwood, president of the firm, which specializes in the inspection and design of marine infrastructure.
Appledore's team of in-house engineer-divers will perform underwater and above-water inspections along with material condition assessments on the installations' waterfront structures, including dry docks, piers, offshore towers, wharves and moorings.
An important part of the work will be to conduct waterfront investigations for the Puget Sound Naval Shipyard, the Pacific Northwest's largest naval shore facility.
"We'll conduct investigations of the shipyard's infrastructure including its six dry dock entrances, an extensive pier system, numerous moorings, seawalls, bulkheads; the work there will be extensive," said Elwood.