Appledore wins $10m Portsmouth Shipyard contract
Navy picks engineering firm for waterfront infrastructure work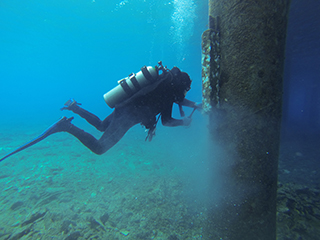 Appledore Marine Engineering of Portsmouth has been awarded a five-year, $10 million contract by the U.S. Navy for engineering services to support waterfront projects at the Portsmouth Naval Shipyard in Kittery, Maine. And the firm says the contract will have a ripple effect on the area's construction industry.
Appledore specializes exclusively on the inspection and design of marine-based infrastructure, both above and below the water.
Noah Elwood, president of Appledore Marine, said the scope of work will require the full complement of Appledore's engineering and construction-oversight services for the shipyard's piers, wharves, quaywalls, bulkheads, crane rail systems, fender systems, berthing and mooring systems along with the shipyard's dry docks.
"The Portsmouth Naval Shipyard is an icon and integral to the economic health of the Seacoast region," said Elwood. "This contract not only enables us to grow our company, it secures the mission of the PNSY by investing in the resilience of its marine infrastructure.
Elwood said the engineering services Appledore provides will require the expertise of specialty contractors and trades, local construction crews, industrial trades and fabricators. "They are essential for the implementation of the work envisioned within this contract."