Antioch New England: 40 years of academics, community service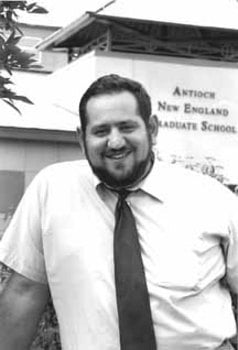 The origins of Antioch New England stretch back four decades, to a house atop Putney Mountain when a handful of teachers and graduate students launched an experiment in education. It was a sharp departure from the typical "ivory tower" institutions of higher learning, which went about their business largely detached from the community around them.
According to institute co-founder Jim Gruber, "With today's electronic media and our sliced-and-diced society, everyone has this little cubicle they live and work in. Over and over again we hear complaints that people are disengaged. They aren't voting, they aren't volunteering and they aren't participating. We founded ANEI to get people re-engaged."
ANEI today employs 40 staffers and operates a $1.2 million budget to see to it that communities participate in civic issues. Though ANEI's successes have been felt from the inner-city schools of Los Angeles to the quickly changing states of Eastern Europe, Keene and the Monadnock Region also have benefited from such ANEI initiatives as the multimillion-dollar Monadnock Region Public Schools of Choice grant program and the Rachel Marshall Outdoor Learning Laboratory.
Another way the Graduate School is helping the Monadnock Region is through its Antioch Psychological Services Center, which offers affordable counseling for individuals and families.
"We are staffed by up to 13 doctoral students, all supervised by licensed clinical faculty at the graduate school," said Victor Pantesco, director of the center, which he said "is firmly committed to its community mission."
In 1964, Antioch College — pioneered 112 years earlier by Horace Mann in Yellow Springs, Ohio — stretched its educational reach beyond undergraduate instruction and launched a new graduate school in the woods of Vermont. The institution was charged with a unique mission.
The school, dubbed Antioch-Putney, would not just simply educate students, it also would put that education into action for the betterment of the community by making hands-on, "real world" application of its teaching a part of its degree programs.
That first class of roughly two dozen students, all pursuing master's degrees in education, were sent to schools throughout the region not only to cut their teeth on the practice of teaching but also to provide instruction to under-served, rural communities.
Today Antioch New England Graduate School is flourishing in Keene. It is known as a place that offers innovative graduate degree and certificate programs and attracts more than 1,200 students to its campus each year. It also is one of the largest providers of low-cost mental health care in the region, trains volunteer selectpersons from all over New Hampshire, organizes service-learning projects that teach our kids modern science while instilling a love for the land around us and presents free seminars and talks by experts on issues that affect our lives.
Despite its growth, the school's commitment to serve the greater good remains one of its core missions, said President Peter Temes
"Antioch New England Graduate School began with a tremendous sense of community, and that continues in just about everything we do today, ranging from MC2, the progressive alternative high school we helped to launch in our main building, to research into violence prevention in Keene and surrounding areas," Temes said. "Our challenge is to continue the growth of our reputation nationally and internationally, while making our local contribution even stronger."
Students in all 23 master's degree programs and two doctoral programs offered at the school must complete as many as 600 hours of practical experience related to their fields.
But Antioch New England's community service doesn't stop with its students. The institution itself has also pledged resources and its considerable brain trust to enhancing civic institutions and participation both in the Monadnock Region and across the globe.
Perhaps the most concrete example of that commitment is the Antioch New England Institute (ANEI), which was launched 11 years ago to encourage greater community engagement in such areas as local government, education and environmental protection. Among the institute's many programs is one that helps local selectboard members become more effective and more responsible public servants.