Amherst uses cider to help open orchard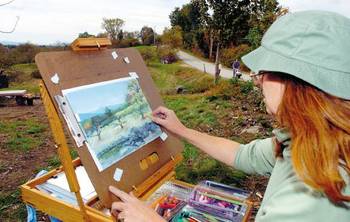 AMHERST – Less than two miles away from the Great Pumpkin Festival in Milford, the sweet smell of hay filled the air as people jubilantly celebrated another autumn fruit.
At the town's first Cider Festival, hundreds of folks milled about the hillsides of the town-owned Lindabury Orchard at the top of Christian Hill Road. The event, which was organized by the Friends Of The Orchard organization, was put together to raise money to get the orchard up and running again.
The town bought the orchard last year, but the land hasn't been run as an apple farm since 1995, according to Ellen Chapman of FOTO.
"We were trying to figure out a way to bring it back to a working orchard," Chapman said, and the idea for the Cider Festival took off from there. "The money will be used for pruning, poison ivy eradication and treating the trees."
FOTO's goal is to get the orchard up and running as a pick-your-own operation within three years.
There was a lot of old-fashioned fun was to be had at Saturday's event. As the sun began to set, kids hustled in sack races across the fields, tots piled onto a bed full of straw and a tug-of-war was taking place under the apple trees.
A strong dad twisted down the top of an apple press as his three children watched the cider drip into a plastic gallon jug.
But if cider and apples weren't enough, Moulton's Market provided hot dogs, bratwurst, chowder and chili to enjoy. Neighbors chatted while they waited in line for food and kids ran off toward playmates across the orchard.
Graham Hankey, FOTO treasurer, said the group hopes to make the Cider Festival an annual event. This year, the festival sold out with more than 500 tickets purchased.
"We hope that this will be a town orchard that the people from Amherst and surrounding towns could pick from," Hankey said. "We really think that we could create a self-sustaining entity up here."