Amendment rededicates some NH RGGI money for energy conservation
Senate seeks to restore some funding, but House stance is unclear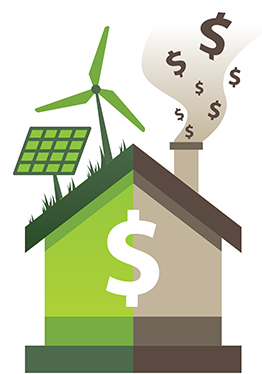 Lost – amid the NH Legislature's battle over the raid of the state's Renewable Energy Fund and the restructuring of the state's largest utility – was the effort to reach a compromise to double the amount of money for residential energy-efficiency subsidies and slightly cut electric rates for businesses.
Under House Bill 208, as amended in the Senate, funds raised through the Regional Greenhouse Gas Initiative will be redistributed, resulting in an increase of 80 cents a month for the average electric ratepayer. However, it would increase the amount of money available for low-income weatherization projects, from $440,000 to $2.3 million. (There's currently a weatherization waiting list of 30,000 homes.) It would also raise the amount going to municipalities and school energy improvements, from $2 million to $5.4 million, a boost to contractors involved in both programs.
"What does it mean? It means jobs. It means a reduction in the use of energy so people will be able to afford their bills. It means lower property taxes," said Sen. Dan Feltes, D-Concord, in the Senate debate on the measure.
But Sen. Andy Sanborn, R-Bedford, argued that the measure "helps large corporations at the expense of everyday people, whose bills are going up. This will make electricity more expensive."
When RGGI was first launched in 2008, New Hampshire was one of the few participating states to direct its fund to energy-efficiency programs, but the RGGI fund was raided two years ago, signaling an end to all that. Lawmakers rebated most of the funds to ratepayers, holding on to $3.5 million and directing most of that money for low-income weatherization and municipal projects. Some did go to business programs, mainly aimed at larger users, but that funding was minuscule.
The House version of the bill earmarked all funds to ratepayer rebates, but Sen. Nancy Stiles, R-Hampton, put forward an amendment that would keep the funding at current levels and eliminate the business program.
The Business and Industry Association of New Hampshire wasn't too happy that commercial ratepayers would fund a program that didn't help businesses, so they backed Feltes' compromise, which would hand back funding to commercial ratepayers though rebates but would end all rebates for residential customers.
The bill must still go through a conference committee, and its future is in doubt.
C-PACE update
Even if the amendment dies, there will still be money for commercial energy conservation, both through the utilities' CORE energy programs and revised C-PACE (Commercial Property Assessed Clean Energy) program, which Gov. Maggie Hassan signed into law Monday.
The bill, HB 205, allows lenders to place a lien on commercial property, which in turn enables developers to invest in major energy upgrades with no money up-front and monthly savings that exceed loan payments.
Meanwhile, the House and Senate need to hammer out how much of the $50 million Renewable Energy Fund will actually be raided. The money, raised through payments from utilities that don't meet the state's Renewable Portfolio Standard. The House wanted to wipe out the fund completely, but the newly formed Clean Tech Council lobbied hard, and the Senate budget left most of the fund intact, though it did grab $2.2 million over the biennium to be used for homeland security, and it shifted nearly $500,000 a year to the Site Evaluation Committee.
"It's a big improvement from where the House started, but it's still a raid," said Kate Epsen, executive director of the Clean Tech Council, which asked two attorneys from the Nixon Peabody law firm whether the raid "would convert a lawful fee into an unconstitutional tax."
The attorneys told her the answer is yes.