Aisling Organics, Clairways take 2019 TechOut prizes
Each NH startup takes home $150,000 in investment capital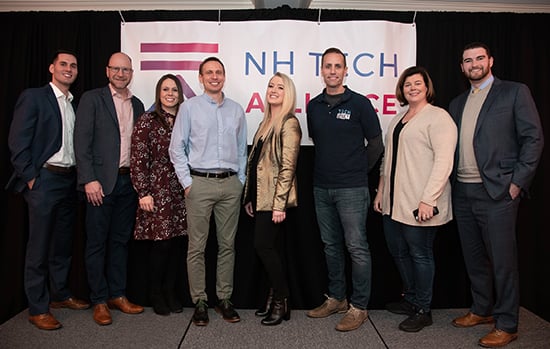 Salem-based Aisling Organics and Clairways of Lebanon were the big winners in the Nov. 14 NH Tech Alliance 2019 TechOut competition, each taking home $150,000 in investment capital.
Aisling Organics, a 2018 TechOut competition finalist, is an organic cosmetics company whose products are formulated with crushed plants and herbs, which it says makes it last longer on skin and enables the company to offer brighter pigments. Aisling sells its products direct to consumers online.
Clairways is developing a wearable lung function monitor for respiratory clinical trials. The lung monitor is built around a small, chest-worn sensor that captures all respiratory metrics for clinical trials.
Chyme, a Salem startup developing a workforce engagement and productivity tool, and Tanosteel of Keene, which offers a smart gun security solution, were 2019 TechOut's other two finalists.
The event featured four finalists pitching their products to a live audience of entrepreneurs and investors. A panel of judges composed of business experts, entrepreneurs and venture capitalists chose and announced the winners at the end of the event.
The total of $300,000 in investment capital was provided by Millworks Fund II, a partnership among New Hampshire investors and the New Hampshire Business Finance Authority.
Sponsors of the 2019 competition were UBS, Q7, Cook, Little, Rosenblatt and Manson, Sheehan Phinney, Brady Sullivan Properties, Meltwater, Slavic 401k, Clark Insurance, miEdge, the Entrepreneurs' Fund of New Hampshire, Bernstein Shur and NH Business Review.