AIANH honors 12 projects for design excellence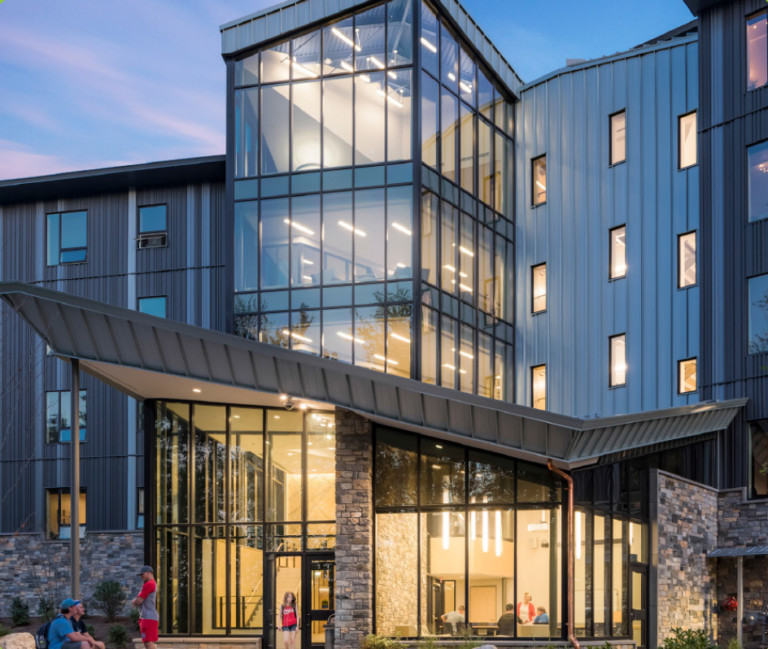 A college's new art and design center and the renovation and restoration of the Rochester City Hall annex were among the Honor Award winners recognized in January at the American Institute of Architects NH's 33rd annual Excellence in Architecture Design Awards.
Winning the Honor Award for Excellence in Architecture was The S/L/A/M Collaborative's Center for Art + Design at Colby-Sawyer College in New London. Winning another Honor Award, Rick and Duffy Monahon Award for Design Excellence in Architectural Restoration and Preservation was Oak Point Associates' work on the Rochester City Hall annex.
The winner of the Honor Award for Small Building/Small Firm was CJ Architects' design of its offices in the North End of Portsmouth. The Honor Award for Excellence in Sustainability went to Sheldon Pennoyer Architects' Eastman Studio Deep Energy Retrofit project at the MacDowell Colony in Peterborough.
In total, 12 awards were presented to 11 firms – Sheldon Pennoyer won a second award, for its work on the Remi's Block mixed-use project in downtown Concord.
Besides awards for architecture and design AIANH handed out several other awards for 2018, including:
• The Clinton Sheerr Award for Excellence in NH Architecture was presented to architect Randall T. Mudge, founder of Lyme-based Randall T. Mudge and Associates, for his commitment to the community and design that exemplifies excellence at the highest level.
• Honorary AIANH membership, which is bestowed on people who are not eligible for membership in AIANH "but who have rendered distinguished service to the profession of architecture or to the arts and sciences," went to Paul Leveille, high-performance building specialist at Resilient Buildings Group in Concord, and Rosemary Heard president of the Concord Area Trust for Community Housing, or CATCH.
• 2017 Award for Outstanding Service: Chris Carley of C.N. Carley Associates, Concord, was honored for his leadership of the AIANH chapter and his service to the profession of architecture.
• 25-Year Award for Excellence in Architecture, which recognizes architectural design of enduring significance, was presented to the Society for the Protection of NH Forests' Conservation Center in Concord. It was designed by C. Stuart White Jr. of Banwell White and Arnold (now Banwell Architects) and opened in 1980.
Honor Award: Small Building/Small Firm
Architect's Office, Portsmouth
CJ Architects
General Contractor: CJ Architects
Photo: Raya on Assignment
---
Honor Award: Excellence in Sustainability
MacDowell Colony Eastman Studio Deep Energy Retrofit, Peterborough
Sheldon Pennoyer Architects
General Contractor: Tim Groesbeck
Envelope and Energy Consultant: Margaret Dillon
Photo: John W. Hession
---
Honor Award: Unbuilt Architecture
Office park
Touloukian Inc. Architects
Landscape Architect: Halvorson Design Partnership
Sustainability Consultant: Resilient Buildings Group
Structural Engineer: Studio NYL
---
Honor Award: Excellence in Architecture
Colby-Sawyer College, Center for Art + Design, New London
The S/L/A/M Collaborative
General Contractor: North Branch Construction
Project Consultants: RFS Engineering, Cavanaugh Tocci Associates, Horizons Engineering
Photo: Alain Jaramillo
---
Honor Award: Rick and Duffy Monahon Award for Design Excellence in Architectural Restoration and Preservation
Rochester City Hall Annex, Rochester
Oak Point Associates Architects
General Contractor: CMGC Building Corp
Photo: Randy Williams
---
Merit Award: Excellence in Architecture
Monadnock Hall, Southern NH University, Hooksett
Lavallee Brensinger Architects
Consulting Architect: Mackey Mitchell Architects
General Contractor: Whiting-Turner Contracting Company
Project Consultants: Mackey Mitchell Architects, Rist-Frost-Shumway Engineering, TF Moran Inc., Foley Buhl Roberts & Associates Inc., PMA Consultants
Photo: Anton Grassi Photography
---
Citation Award: Rick and Duffy Monahon Award for Design Excellence in Architectural Restoration and Preservation
Remi's Block Mixed Use Project, Concord
Sheldon Pennoyer Architects
Photo: John W. Hession
---
Citation Award: Small Building/Small Firm
Islington Multifamily Streetscape, Portsmouth
Winter Holben architecture + design
General Contractor: EJ Cheney
Photo: Winter Holben architecture + design
---
Citation Award: Small Building/Small Firm
Digital Arts Leadership and Innovation (DALI) Lab, Dartmouth College, Hanover
Studio Nexus Architects + Planners
General Contractor: Estes & Gallup, Inc.
Photo: Greg Bruce Hubbard
---
Citation Award: Excellence in Architecture
Southern NH University Gustafson Center, Manchester
Perry Dean Rogers Partners Architects
General Contractor: Harvey Construction
Project Consultants: Rist-Frost-Shumway Engineering, Stephen Stimson Associates, Landscape Architects, T.F. Moran Inc.
Photo: Chuck Choi Architectural Photography
---
Merit Award: Excellence in Architecture
Littleton Food Coop, Littleton
gbA Architecture & Planning
General Contractor: Trumbull Nelson Construction Company, Inc.
Project Consultants: Engineering Ventures, Yeaton Associates, J&M Lighting
Photo: Gary Hall Photography
---
Merit Award: Excellence in Architecture
Lakeside cabin, Center Harbor
Murdough Design Architects
General Contractor: Denali Construction Corp.
Photo: Chuck Choi Architectural Photography