AIANH Awards winners honored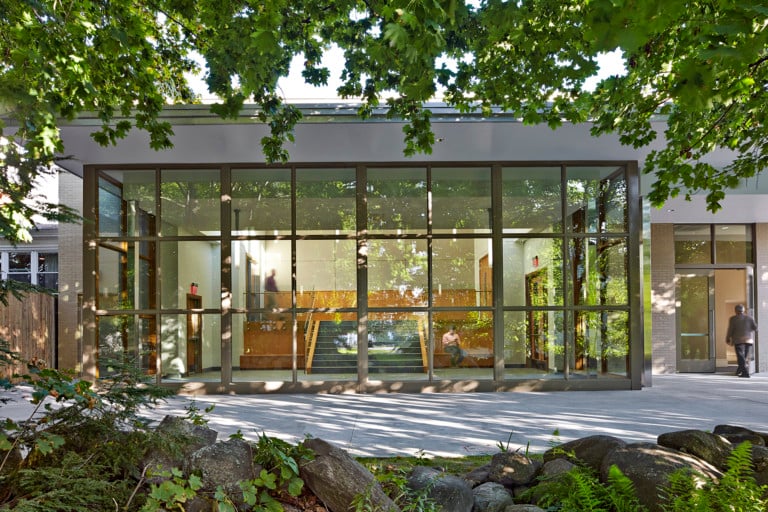 Nine projects from eight architectural firms have been recognized with the American Institute of Architects New Hampshire Chapter's 2015 Annual Excellence in Architecture Design Awards.
Selected from 28 submissions, the nine projects were honored for their excellence in overall design, including aesthetics, clarity, creativity, appropriate functionality, sustainability, building performance, and appropriateness with regard to fulfilling the client's program.
In addition, two buildings were recognized with annual People's Choice Awards, based on voting by the public: Stone Fence Farm, a residential project designed by Bonin Architects and Associates, New London and Smuttynose Brewing Company's new facility in Hampton, designed by McHenry Architecture of Portsmouth. The facility was built by Harvey Construction Corp., Bedford, with landscape architecture by Terra Firma Landscape Architecture of Portsmouth.
Besides building projects, awards were presented to individuals for their service to the profession of architecture and to the AIANH Chapter.
Winners included:
• Architect Karolina Jablonska-Burtt of The Architectural Studio in Grantham was cited for her committed leadership of the AIANH Chapter and service to the profession of architecture.
• Architect Matthew Lawton of Connolly Brothers in Beverly, Mass., was honored
for his contributions on the AIANH board of directors in 2013 and 2014 as associate director.
• John W. Hession of Advanced Digital Photography in Dorchester and photographer for New Hampshire Home magazine was recognized for his contributions to
the chapter and to the understanding and promotion of sustainable, energy-efficient design in the state.
The 2015 jury was composed of faculty members of the Boston Architectural Center, including practicing architects. They were Karen Nelson, Thomas Parks AIA, Lee Peters, Ian Taberner and Michael Wolfson.
Click the links below to view the winning projects.
Honor Award
Anderson Hall Performing Arts Center Addition and Renovation, Brewster Academy, Wolfeboro
Architect: Scott Simons Architects, Portland, Maine
Contractor: Milestone Engineering & Construction, Inc., Concord
Photographer: Robert Benson Photography, Hartford, Conn.
Jury comments: "A skillful architectural solution that while maintaining the existing character of the buildings creates a new composition through the re-purposing and program that strengthens the original building. The interior spaces are successfully transformed from inward looking to outward looking with open and light-filled performance spaces. The new entrance lobby connects the composition to the academy's campus."
Click the links below to view more winning projects.
Rich and Duffy Monahon Award for Design Excellence In Architectural Restoration And Preservation
Colony Hall Renovation, MacDowell Colony, Peterborough
Architect: Sheldon Pennoyer Architects, Concord
Construction Manager: Bruss Construction Inc., Bradford
Photographer: Sheldon Pennoyer AIA, Concord
Jury comments: "The design jury recognizes the manner in which the existing Colony Hall was historically and sensitively renovated with skillful additions and careful demolitions all the while preserving the original character of the building. The new construction satisfies new programming, allows for increased interior day lighting, provides improved barrier free accessibility, and dramatically improves environmental qualities and thermal performance."
Click the links below to view more winning projects.
Merit Award
Bush Center & Ketchum Library, University of New England, Biddeford, Maine
Architect: JSA Inc., Portsmouth
Contractor: Ouellet Associates, Brunswick, Maine, and Allied Cook, Scarborough, Maine
Landscape Architect: Site Design Associates, Brunswick, Maine
Photographer: Rob Karosis, Rollinsford
Jury comments: "The Bush Center received recognition for its sympathetic and contextual additions to the existing library, transforming an inward looking building into one that embraces views of the Saco River, landscape and University Campus. The new gallery, café and boardrooms also activate the potential utilization of the Ketchum Library. A worthy design solution honoring George and Barbara Bush."
Click the links below to view more winning projects.
Merit Award
IDEXX Synergy Center, Westbrook, Maine
Architect: Lavallee Brensinger Architects, Manchester
Construction Manager: PC Construction, Portland, Maine
Landscape Architect: Richardson & Associates, Saco, Maine
Interior Design: Stibler Associates, Manchester
Photographer: Siri Blanchette/Blind Dog Photo Associates, Portsmouth
Jury comments: "By their very nature, medical manufacturing laboratories must meet strict restraints to meet cleanliness and the protection of intellectual property. This design solution creates an open new building and fills it with natural light and with the amenities to support the well-being of all company employees. The design jury cites the commendable building programming, strong campus planning and a LEED Gold building certification."
Click the links below to view more winning projects.
Merit Award
Hyder Court Housing, Portsmouth
Architect: McHenry Architecture PLLC, Portsmouth
Construction Manager: Careno
Construction Corp., Bedford
Photographer: Carabell Photography, Dover
Jury comments: "Hyder Court, a multi-family residential project, receives recognition for an innovative open floor plan layout in a building form of a reduced scale most typical of a single family residence. The 'L' shaped buildings frame the corner lot while providing a gateway entrance. The sloped roofs mediate between the adjacent commercial and residential street buildings. The design jury felt this was a very successful architectural solution for an often difficult and challenging proposition for design professionals."
Click the links below to view more winning projects.
Merit Award
Clearview Lake Retreat, Lake Winnepocket
Architect: Bonin Architects & Associates PLLC, New London
General Contractor: Old Hampshire Designs, New London
Landscape Architect: Bonin Architects & Associates
Interior Design: Sage's Interiors, New London
Photographer: John. W. Hession, Dorchester
Jury comments: "A successful utilization of an existing structure transformed into a residence reconfigured to take advantage of the views of Winnepocket Lake. The existing porch room is displaced and becomes an addition to the ground floor increasing first floor living space while providing open-air decks for the second level. The new residence exhibits skillful planning and design – a conceptual solution well sited in a beautiful landscape."
Click the links below to view more winning projects.
Honorable Mention
Meservey Hall Renovation and Addition, New Hampton School, New Hampton
Architect: Samyn D'Elia Architects, PA, Ashland
Contractor: Conneston Construction Inc., Laconia
Landscape Architect: Pollock Land Planning, New Hampton
Photographer: Joseph St. Pierre Photography, Concord
Jury comments: "A masterful transformation of a traditional academic building constructed with an existing primary entrance facing the college campus lawn. The new design expands the academic program while skillfully creating a new access connecting the campus lawn and playing fields through the building. A path links the New Hampton School through a reconfigured building with two entrance facades. At the center for the points of entry is an atrium filled with natural light in the Central Hall space – welcoming students, faculty, administrators and visitors."
Click the links below to view more winning projects.
Honorable Mention:
Private Residence, Sunapee
Architect: Cowan Goudreau Architects, Concord
General Contractor: Nehemiah Builders, Newbury
Photographer: Duene Cowan, Cowan Goudreau Architects, Concord
Jury comments: "Successfully sited buildings in a composition designed to increase privacy while maintaining maximum views to Lake Sunapee. Separating the garage and guest house reduces the height and building mass while the choice of the exterior building materials expresses a dialog between the structures in a natural setting. A strong sense of building craft is apparent."
Click the links below to view more winning projects.
Honorable Mention
Stone Fence Farm, Salisbury
Architect: Bonin Architects & Associates, New London
General Contractor: Old Hampshire Designs, New London
Landscape Architect: Pellettieri Associates Inc., Warner
Interior Design: Sage's Interiors, New London
Photographer: John W. Hession, Dorchester
Jury comments: "This residence successfully employs stone New England building typology to express permanence and tradition with new construction. The reuse of stone at the site and the quality of the interior detailing and woodworking are commendable and deserved recognition."