After founder's death, bike shop remains vital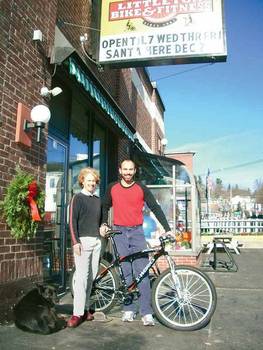 Much has changed since the Littleton Bike Shop opened its doors in 1981, including its location, name and owner. The innovation and commitment to customer service critical to its North Country success remains, however, under the ownership of Dave and Maggie Harkless, two accomplished cyclers who bought the business nearly three years ago, shortly after a motorcycle accident claimed the life of company founder and their close friend Barry Field.
"When Barry died, everyone just chipped in and worked so hard," said Dave Harkless, a chef by trade who began working at the Littleton Bike Shop in 1992. "We weren't sure what we were going to do after Barry died but we turned it around and made it a record year. That was really cool. We did it to make Barry proud."
An avid skier, cyclist and entrepreneur, Field's decision to open a bike shop in the North Country town rather than selling skis was one that has withstood the test of time.
"He was smart enough to understand ski season was three months long, while people could enjoy bikes for nine months out of the year," said Harkless, 43. "Barry was committed to providing good customer service. He was always honest with people, we've continued that."
The success experienced by the Harklesses and the rest of the bike shop team during that bittersweet period after Fields' death was incentive enough for the couple to purchase the business from Field's wife Sally in March 2004.
"It was like, 'I guess I know what we're going to do," Harkless said of the decision he and Maggie made.
Today, Littleton Bike and Fitness, as it is now called, is located in the old Downings Garage building on Cottage Street, around the corner from the tight Main Street location Field originally shared with H&R Block when he first opened the store 15 years ago.
Now 8,000 square feet of newly renovated space houses the Cannondale, Specialized, Haro and Seven Cycle bikes carried at the store, as well as fitness equipment, biking accessories and clothing, nutrition supplements and a service department. The shop even carries hockey equipment for those who trade in their wheels for blades during the off season.
The Harklesses and their staff — all cycling enthusiasts — complement the selection of on- and off-road bikes with offers of advice and firsthand knowledge that can come only from experience.
Good timing
A large dirt parking lot behind the Harklesses' building gives way to a wooded trail that runs along the Ammonoosuc River, making for scenic, if not seductive, test rides according to Harklesses.
"It's the perfect place to try out a bike," said Harkless, who actually encourages would-be buyers to try out a few different bikes before deciding on their purchase. "Some bike shops won't let their bikes out of the store. You can't make a good decision that way. We want people to take them out, get a feel for them."
The shop is also a jumping-off site for two different bike clubs – the Littleton Landsharks, a mountain bike group, and White Mountain Velo, a road bike troop that gathers at the Carriage Street location for a weekly ride every Thursday night during the summer.
While the desire to keep their friend's business alive played a major role in the Harklesses' decision to purchase the company, industry timing appears to have been on the couple's side.
By 2005 — a year after they purchased the shop — sales numbers for the bicycle industry hit $6 billion nationally. Today, more than 40 million Americans enjoy bike riding, according to statistics reported by the National Sporting Goods Association.
Despite growing interest in bicycling, however, the NBDA reports the number of specialty bike shops throughout the country has declined by 24 percent since 2000. The organization reports that while shops are growing in size, there are less than 5,000 now operating in the United States.
Harkless isn't concerned. "You don't get rich in the bicycle industry, but if you do your things right — you order right, do enough volume, take care of your customers — it adds up," he said, adding: "I'm a huge optimist. I have a huge passion for this. We've taken what was a really tragic situation with Barry's death and have gotten the best possible result."