Advances to LUKE arm demonstrated in Manchester Millyard
Fully integrated, bionic arm is available to amputee veterans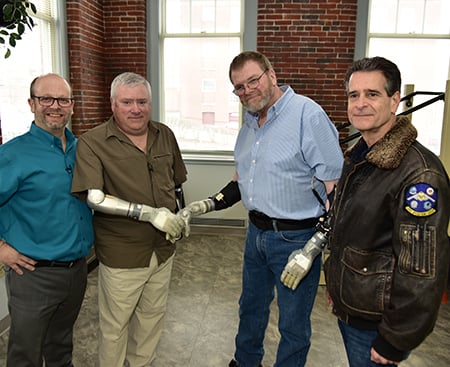 Using traditional arm prosthetics destroyed Ron Currier's shoulders. A bilateral amputee, Currier had already undergone four surgical procedures when his doctor informed him that he would need shoulder replacement surgery on both shoulders, which would render him incapable of continuing to use prosthetics.
Fortunately, technology was on his side. In partnership with the Defense Advanced Research Projects Agency, Manchester VA Medical Center and Next Step Bionics & Prosthetics, DEKA Research and Development developed the LUKE bionic arm.
On Thursday, Currier and fellow amputee Chuck Hildreth demonstrated the LUKE arm in action at a press event held at Fratello's Italian Restaurant in the Manchester Millyard.
Powered by a battery with two rechargeable inertial measurement units placed atop one's sneakers, the LUKE arm is controlled by foot movements and readings from electrodes attached to the surface of an amputee's limb.
The software (housed in a communication port on the LUKE arm) reads patterns gathered from the electrodes, which pick up the user's nerve signals sent to live muscles that previously commanded wrists, hands and fingers. Through gathering these patterns, the software tells the LUKE arm to recognize signals and act accordingly. Of course, this method is altered depending on the type of amputation.
"Sometimes when we first set someone up and we tell them to open [their hand] and they close [it], we'll go in the software and just switch it so it kind of tunes into what they're hardwired to be able to do," said Matt Albuquerque, president and founder of Next Step Bionics & Prosthetics in Manchester.
"It makes the system very unique for a person to use, because things start becoming natural," said Chuck Hildreth, one of the early users. "We can reconfigure whatever I want. The system is extremely easy to learn because it's the way you think. Amputees have always put up with things, we've got to adjust, and it's really nice to have a system adjust to me for a change."
Within five hours of using the arm, Hildreth said he was placing a piece of wood in a vice, securing it and drilling a hole into it. Within 10 hours, he was opening bottles and setting them on the shelf in a demonstration to DARPA. Even Hildreth's wife quickly realized the impact of the arm on his independence, and put Hildreth to work, vacuuming and completing other chores around the house.
The wrist, Albuquerque explained, is complicated joint, that positions the hand. The LUKE arm allows for two motions at the same time, flexion and extension as well as aviation (up and down), allowing the user to pick up a glass off a high shelf and change the hand position so it doesn't spill.
"With the body-powered prosthetics, the amount of bands that I had to have to give me the power to close them is what in the end completely destroyed my shoulders. So these are going to give me back my independence," explained Currier.
The LUKE arm is not covered by private insurance, but is covered for veterans.
Currier's arm costs approximately $150,000 while Hildredth's, which connects at the shoulder, is a little over $200,000, said Albuquerque.
Albuquerque said the technology will likely be used in lower limb prosthetics in the future and thinks this is the beginning of opening up a whole new world for people who have had amputations, by tapping into what naturally goes on.
"One of the things Dean [Kamen] wanted to make sure of was this was a nonsurgical way of providing function to somebody. There's a lot of talk out there about surgeries and different techniques and implantable electrodes, but a lot of people who have had amputations don't want to go back under the knife again," explained Albuquerque. "So it was important when they designed this so that they were able to do something noninvasive. My sense is, if you can get to that level of function without somebody going under the knife, I think the potential of that is immense."
It was 11 years ago that DEKA Research and Development began working with the Defense Advanced Research Projects Agency on developing a better arm prosthetic, recommending DEKA founder Dean Kamen work with a prosthetic company to better suit amputees' needs.
"We started going around the country to all the big medical schools and it was almost comical that at one point one of the clinical groups said, 'Well you know, Dean, there's a really well-recognized national expertise for doing these prosthetic fittings, it's somebody up in that New England area where you are,'" Kamen told the crowd.
Unbeknownst to Kamen, that company – Next Step Bionics & Prosthetics – was located just a few buildings away in the Manchester Millyard.
The companies also partnered with the Amputation Clinic at the Manchester VA.
"In a world where everyone sees dysfunctional, pretentious government, it's nice to see the VA, DARPA – the fact this whole project came together so well and now we have some people benefiting from the LUKE arm is exciting to me," said Kamen.
The LUKE arm is now manufactured by DEKA spinoff Mobius Bionics.